Cruise lines are always looking to bring passengers the latest and greatest experiences, and this often means taking things to new heights, literally. Over the past few years, we've seen everything from ropes courses to go-karts take over the upper levels of ships. But at least one line is focusing in a completely opposite direction, making the lower levels of their ships the place to be by creating one of the most unique spots you'll ever grab a cocktail.
A Whale's Eye View
With Blue Eye, Ponant — a French-owned line specializing in high-end expedition sailings — has raised the stakes where cocktail lounges are concerned. Available aboard four of their ships, the underwater lounge features two large portholes designed to give passengers the sense that they are viewing the world through the eyes of a whale. Viewing screens feature live feeds from three strategically placed cameras which allow passengers to further explore life in the sea through which they are traveling.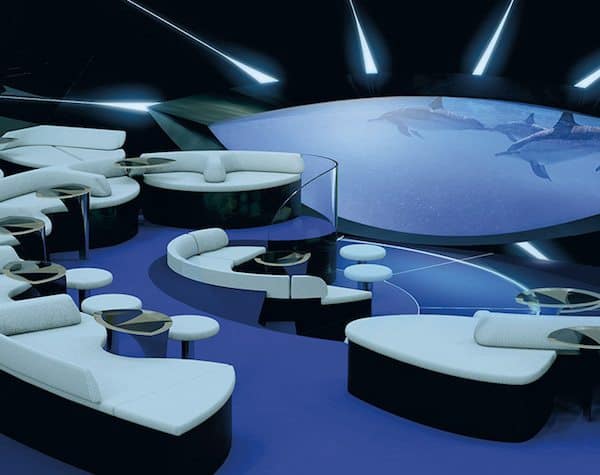 Furthermore, the sounds piped into the ultraswank lounge contribute to the feeling of being immersed in the environment thanks to specially designed hydrophones which are placed just beneath the ship's keel. When enjoyed from the comfort of the space's "body listening sofas" which vibrate in time to the natural atmospherics, the entire experience is probably the closest one can get to experiencing life as an aquatic creature without actually dying and being reincarnated as a whale.
A Multi-Sensory Experience

Designer Jacques Rougerie explained that his inspiration arose from a lifelong desire to make "people aware of the role that the sea has played in the history of humanity." He added that in this space, guests "will be able to observe the fauna and flora of this sub-aquatic universe and discover its sonorities" so that "for the first time… the public, during a cruise, will be able to 'feel' and be at the heart of an underwater world. They will need to use all of their senses."  
Photo credit: Ponant