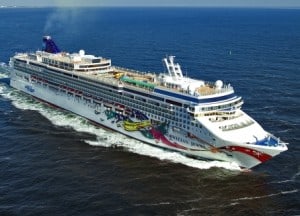 By Nancy Schretter
San Juan, Puerto Rico is one of the Eastern Caribbean's most diverse and exciting ports of call. This capital city of Puerto Rico, a U.S. territory, offers a unique blend of so many factors: old and new; American and Taino/European cultures; art and adventure. Cruisers can stroll down bustling cobblestone streets filled with inviting shops or spend the day lounging on one of the island's golden beaches. Visiting this culturally rich city, and Puerto Rico itself, is one of the best ways to experience all that the Caribbean region has to offer.
While the Blake Shelton Cruise will feature two performances by Blake Shelton plus shows by Trace Adkins and over 20 other country music entertainers, the Caribbean ports on this October cruise are also a huge draw. Here are a few of the exciting experiences that guests on the Blake Shelton Cruise can enjoy during their visit to Puerto Rico:
1. Explore Old and New: Old San Juan is one of the most beautiful urban areas in the Caribbean, so make sure to take a city tour. The historic walled city features cobblestone streets lined with pastel hued Spanish-style townhouses, their wrought iron balconies overflowing with flowers. Visitors must see the massive San Cristobal Fort built in 1771; La Fortaleza, the well-preserved governor's mansion; San Juan Gate; and the Cathedral of San Juan. Plaza de Colon, a lovely shady square, is a wonderful place to relax with a cup of strong coffee and browse through some of the surrounding shops. As appealing as El Viejo San Juan is, however, one must not forget the new sections of San Juan. The trendy Condado area is filled with shops and restaurants and the palm studded beaches and attractions of Isla Verde beckon.
2.  Saddle Up. Guests will have the opportunity to take a leisurely trail ride through one of Puerto Rico's most famous Haciendas. This popular tour takes visitors on a trail ride along the banks of a river while enjoying the nature and wildlife in this region. Participants must be at least 10 years of age, at least 48" tall, weigh no more than 250 pounds, and be in good physical condition to participate in this tour.
3. Taste Some Rum: Cruisers flock to the Bacardi Rum Factory on their visits to Puerto Rico. On this informative tour, participants will learn about the history of sugar cane production in the Caribbean, the Bacardi rum making process, and how to make drinks such as Mojitos and Cuba Libres. Free drinks and rum tasting opportunities are included. For those who don't have time to visit the factory, make sure to try out a Bacardi or Don Q rum infused cocktail while you're in port. Guests also have the opportunity to tour the trendy Condado District, stroll through Old San Juan, and visit the huge San Cristobal Fort on this tour as well.
4. Fly through the Canopy: Love excitement? Then sail from tree to tree on a zipline tour during your stay in Puerto Rico. This zipline course, located about a 30-minute drive from San Juan, consists of eight platform-to-platform traverses using a network of cables and pulleys up to 70 feet off the ground. At the end of the tour, participants will rappel down to the ground. Extensive walking, hiking and climbing may be involved as part of this tour. Guests must be five years of age, at least 46" tall and can weigh no more than 250 pounds to take part in this shore excursion.
5. Grab a Tasty Bite: Cruise visitors who expect to find only Puerto Rican food in San Juan are in for a surprise. San Juan serves up one of the most diverse choices of cuisines in the Caribbean. While in San Juan, take a Cuisine Tasting tour to try some of Puerto Rico's "cocina criolla" including delicious hors d'oeuvres and other delights. Participants will enjoy a Mofongo and Mojito culinary hands-on dining experience and learn how to make these Puerto Rican favorites.
6. Get Adventurous. Cruisers seeking an adrenaline rush can get their fill on an exhilarating ATV adventure tour at a 600-acre Hacienda located near El Yunque in Puerto Rico's eastern countryside. On this exciting shore excursion, guests will cross creeks and drive on trails that wind through the region's beautiful scenery. If the weather permits, the guides will stop by a river and participants can take a dip to cool off in the clear waters. Each ATV can hold one driver and one rider. This tour is open to cruisers who are at least 12 years old. Drivers must be 18 years of age or older, under 250 pounds, in good health, and must show a valid driver's license.
For more information on the Blake Shelton Cruise, visit https://www.blakesheltoncruise.com. Several stateroom categories are already sold out and many others have just one cabin left, so make your reservations soon. If you have questions or are seeking more information, contact the Blake Shelton Cruise hosts, Flying Dutchmen Travel, at 800-248-7471 or 707-546-1212 or by email at [email protected].
Article contributed by Nancy Schretter, Managing Editor of Family Travel Network.
Subscribe to our Cruise News Updates.
Related articles