Confession: After sailing on Norwegian Breakaway for the first time nearly two years ago, I vowed to never cruise aboard her again. Not because it was a bad trip – it was an amazing time, actually – but rather because of her size. I tend to prefer smaller ships. Specifically, as a New York City homeporter, the Norwegian Gem.
But that was then and this is now, and given that this is my third voyage upon the Breakaway, it looks as though I've come to love her. Not quite as much as Gem, but she most definitely has her charms.
All Aboard!
I'm one of those people who tends to be at the port as early as possible, so the fact that I didn't get there this time until nearly 11:30 pm worked my nerves. This was especially true because I was determined to grab one of the limited number of passes available to the ship's adults-only area, the Vibe Beach Club. (There is another adults-only area aboard the ship, Spice H20, but for peaceful lounging far from the maddening crowd, Vibe can't be beat.)
Fortunately, my arrival time didn't really matter, because I was traveling as a guest of Norwegian's Casino at Seas program. (More on that later.) This meant that upon arriving at the pier, I was escorted straight to a separate check-in area. Literally 10 minutes after arriving at the pier, I was on the ship and headed for guest services to secure my precious Vibe pass.
When boarding, you can tell there are other folks hoping to snag a Vibe pass, because like you, they aren't stopping for a drink or to ohhh and ahh over the atrium; they are booking it straight to guest services. Do not pass go, do not collect $200. Once that piece of business was taken care of (I got the 16th out of 65 or so available passes), I headed to the atrium bar for a drink.
Names, Names, Names
I travel solo, and people often ask me if I don't wind up feeling a little lonely. Let's put it this way: Thanks to my participation in various roll calls and Facebook groups, by the time I sat down for that first (and second) drink, I'd already had several people come up and say, "Hey, aren't you Richard?" Don't ask me their names, because they are a blur. Let's just say I'll be greeting people with, "Dude!" and "Hey, lady!" a lot over the next seven days.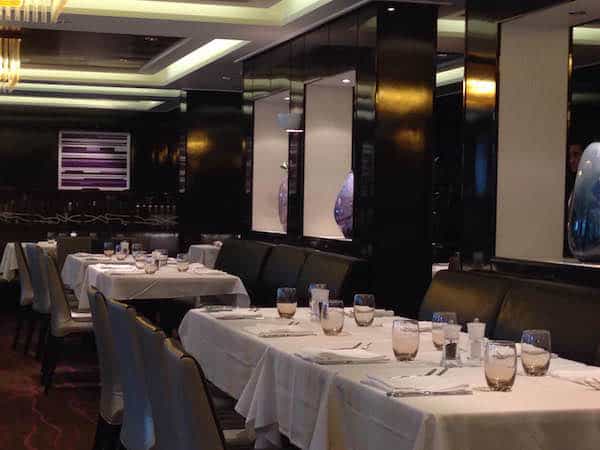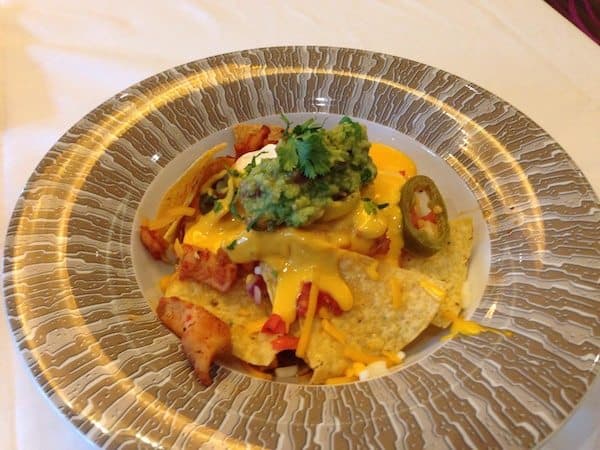 For lunch, I skipped the always-packed buffet in favor of the main dining room, Taste. (Sister eatery Savor was the one listed as being open, but so many people opted for a sit down lunch that the overflow wound up being seated in Taste.) I started light with a delicious Cajun shrimp salad… but of course, I didn't stop there. That was followed by chicken nachos, fried chicken with mashed potatoes and an amazing peanut butter cup cheesecake. It sounds like a lot of food, but… well, okay, it kinda is. But one of the things I've always liked about Norwegian's main dining rooms is that they seem to anticipate that people are going to over-order, so the portions are manageable.
Or maybe I'm rationalizing because I don't want to think about how much I ate on day one. I know main dining rooms can get a bad rap, but this was a great meal, quickly served, and spent chatting with several guests at adjoining tables.
Feel the (Wind) Burn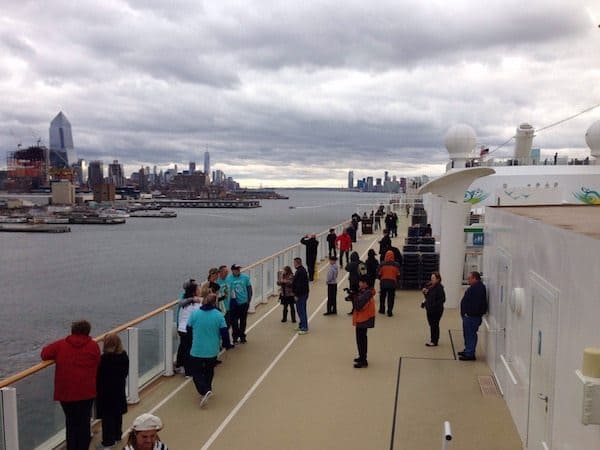 Although the day before had been gorgeous in the New York City area, sail away day was frigid. We'd gotten a light snow the night before, and the winds were nasty. There weren't a lot of people strolling around the deck as we waited to depart. Heading to my room to unpack, I wasn't sure what to expect. On all of my previous cruises, I've had aft-facing balconies… and those balconies have been big enough to host a tailgating party. But this time, as I was trying to save money, I'd gone with a (gasp!) regular balcony. My Casino at Seas offer had been for a free inside room, but I'd paid to upgrade. Papa needs a horizon and fresh air!
Yes, Breakaway's regular balconies are as small as has been oft-reported. But with two chairs and a small table, it'll do. How much room does one guy need to read a book and gaze at the ocean? The room itself is well laid out and spacious, although I'm not crazy about how close the closet is to the bed. And while there are shelves tucked beneath the TV and desk, I miss good old-fashioned drawers. One thing I love, however, is the above-bed magazine rack, perfect for stowing the trashy magazines you want to flip through later, or your dailies.
I'm not sure if it's this particular cabin (11844) or not, but I'm noticing a lot more sound bleeding through from other cabins than I have in aft-facing balconies. (Of course, in those, the lull of the engines and sound of the wake likely cover up a lot of neighborly sins.) This completely-full sailing also seems to have approximately 10 gazillion children aboard, at least 32 of whom I believe are in the cabin directly above me.
Dinner and a Show
Thanks to the cold weather and high winds, the outside decks were closed. And yes, this caused a lot of grumbling among the folks who like to grumble. How dare they take our safety into consideration? I took in the "Welcome Aboard" show, which is sort of a sampler pack of the entertainment that will be available for the next week. It opened with a killer number from the Rock of Ages cast, closed with an okay routine from the Burn The Floor troupe (having seen and loved the show, I definitely would have chosen another number) and sandwiched between was an introduction to the ship's officers and, of course, a lesson on the required steps whenever the ubiquitous "Hey, Baby" plays.
It was prime rib night at O'Sheehan's, and I'd love to show you pics of my dinner but… well, I was hungry and it was delicious and photos were the last thing I was thinking about. One nice thing about eating at O'Sheehan's is its proximity to the atrium, where there is often a musical act playing. While noshing this evening, diners were being serenaded by a Arvin & Emily, who call themselves "The King & Queen of Timeless Songs"… and rightly so. Depending on your viewpoint, this was either cruise ship entertainment at its best or, for the cynics among us, at its worst. Tonight, they were performing tunes from the '70s and '80s, and I was all in.
After dinner, there was a little bit of gambling, and a lot of wandering around the ship to check out some of the venues and acts. And no night on a ship would be complete without a trip to the nightclub, in this case named Bliss, to watch older folks who at home would shout, "Turn down that noise!" shake their groove things while their younger brethren partake in the typical nightclub mating rituals. A good time was definitely had by all.
Overheard
A few of the more comical things I've heard people say today?
"Is there a WalMart or Target on board?"
"Honey, I know this is supposed to be a family vacation, but my goal is to see as little of them as possible."
"I put $10 in that slot machine and didn't get a thing back! What a rip-off!"
Catch up on my other days aboard the ship!