For me, sea days are what cruising is all about. I don't much care where we're headed. If I'm sailing, I'm happy. Better still, by midafternoon, we'd gotten far enough away from the frigid New York City weather that you could be outside without fear of catching a cold. In fact, we even got some sunshine for a while. It wasn't quite lay-by-the-pool-and-make-sure-you-have-sunscreen-on weather, but we were getting closer.
Early afternoon, those who'd taken place in our ship's roll call meeting got together at La Cuchina for snacks and a chance to put faces to the names of their cyberfriends. Setting up these meet and greets is something that Norwegian really excels at. Not only do they put out a nice spread, but a selection of the chief officers, including the captain himself make an appearance. And it's smart on their part: They know that passengers who participate in roll call meetings are clearly active on the internet. They will write reviews, post messages, and endlessly debate every good (or bad) experience they've had. And the easiest way to curtail complaints being put out there is to nip them in the bud. "Got a problem?" these officers say, "Call us. Give us the chance to make it right." They even go so far as to hand out cards with their numbers on them… and yes, they personally answer.
Slots O' Fun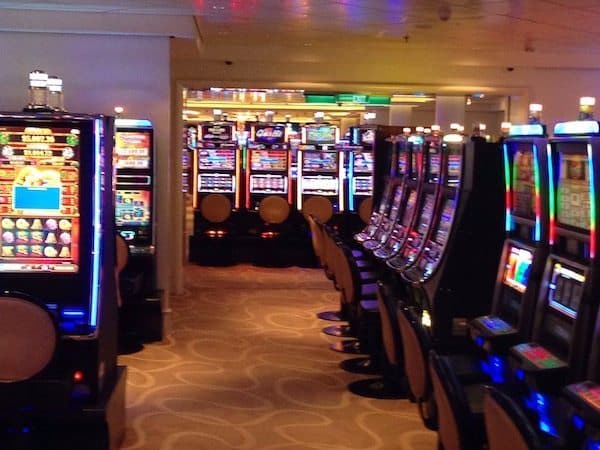 Following the meet and greet, many of us headed to the casino for the slot pull. You know the drill: Everybody pays $15, the money goes into a Wheel of Fortune machine, everybody gets five spins and the "winnings" are split among the players. How'd we do? Well, we all walked away with… $10. But hey, a $5 loss is probably the best you can hope for in a casino!
This is another area where Norwegian excels. The casino host provided two bottles of wine, which went to the two players who had the highest hits during their five spins.
The Secret is Out
A while back, this ship (and I'm not sure if it's true fleet wide) rather quietly started putting out special, themed buffets at lunch time on sea days. On the Breakaway, these are set out in Moderno. Today's was Mediterranean style, featuring everything from greek salads to fish and some pretty spectacular desserts. The first time I became aware of this hidden gem of a buffet, it seemed few people onboard knew. But the secret has obviously spread, as the buffet drew so many people that they filled not only Moderno, but nearby Cagney's as well.
Nap Time
On past voyages, I've tended to be someone who spends the afternoon wandering around from bar to bar, chatting with folks… and then crashing shortly after dinner. But so far this trip, I've been doing the opposite. Kids may protest taking their afternoon nap, but it's one of my favorite things to do at sea… and yesterday's wasn't a quick power nap, but rather a three hour snoozefest.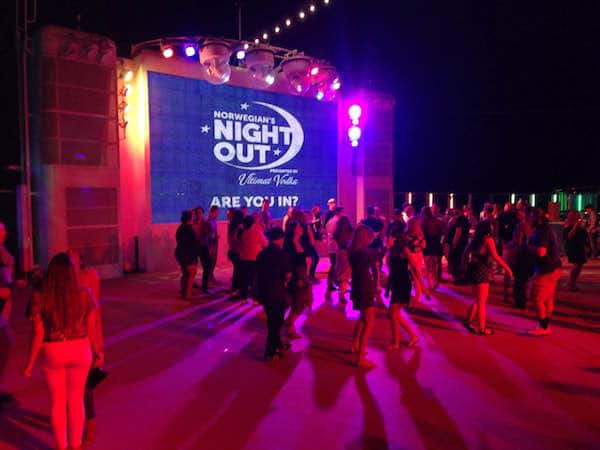 It was Norwegian's Night Out, meaning folks wanting to put on their fancy clothes got dressed up for dinner. It also happened that as a gold-level Latitudes member, I'd been invited to the Captain's VIP Cocktail Party. (Hey, their name, not mine!) One reason I love these is that they are held in the gorgeous Haven courtyard, and that's about the only way I get to hang out in the exclusive, ship-within-a-ship enclave. But this is yet another opportunity to interact with members of the staff, and I spent the next half hour or so chatting with Shailendra Sawant, the ship's food and beverage director about everything from how they decide to make menu changes, to how he, when first joining the cruise industry two decades ago, made the adjustment to a life at sea. He is a great conversationalist with a wicked sense of humor, and a lot of interesting stories to tell.
Dinner & A Show: The Sequel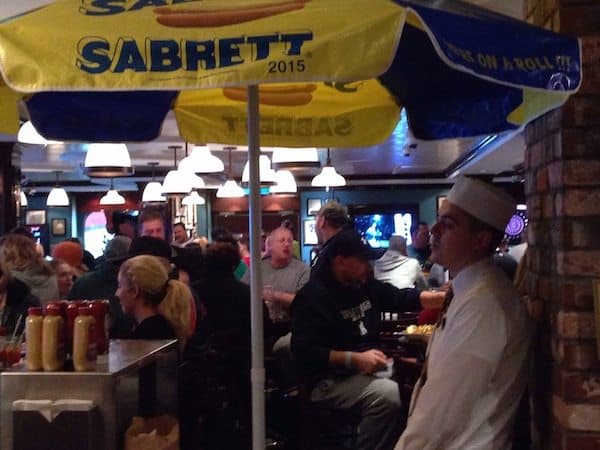 I'd intended to hit the Manhattan Room for dinner, but wound up detouring to O'Sheehan's for a tasty shepherd's pie. Now, I have no clue what a genuine shepherd's pie tastes like, but I know this one was tasty. After rushing through dinner, I headed to the theater for Burn The Floor. A lot of people skip this show, thinking it will be dancers doing their thing to pre-recorded music. But in reality, there's a band and two great singers, and the show is a high-energy blast.
After the show… well, let's just say there was drinking and dancing and drinking and gambling and drinking until nearly 3 am. I didn't even know I was still capable of staying awake that late. Something tells me tomorrow will be a really big nap day.
Q: Is the Ultimate Beverage Package worth the price?
A: Like almost every question people ask about cruising, the answer is… it's subjective. These days, it's almost impossible to book a cruise with NCL and not be offered the beverage package as a "free" perk. But if you happen to be purchasing the package, it most definitely is on the pricey side, especially when compared to, say, Carnival's Cheers package. There are two ways to decide if it's worth it for you: One is to figure out about how much you drink per day and do the math. Honestly, you have to drink quite a bit to make the package worthwhile in that way. But there's another way to look at it: For me, when I get off the ship, I don't want to have a bill. I pay gratuities up front (and judge harshly anyone who removes their pre-paid gratuities), pay for excursions in advance… anything I can do to avoid a bill, I do. The one and only time I cruised without a beverage package, I found myself calculating each time I ordered a drink. "That's another ten bucks… and another…" Let me tell you, if there's one thing I don't want to do on vacation, it's math. So for me, the package proves worth the cost in that way, alone.
Follow along with our other blogs during this voyage!