On this particular itinerary, which I've done numerous times, you notice that a certain sense of desperation sets in on the final two sea days. Yesterday, we visited our last port, meaning that from this point forward, every sipped cocktail, lingered-over meal, and nautical mile traveled is bringing us closer to cooler temperatures and that most dreaded of words, disembarkation. Everywhere, people try finding time to do the things they've been meaning to all week. Enjoy that specialty restaurant, hit the duty-free stores, win that elusive jackpot in the casino.
For me, it means spending time at the Vibe Beach Club. Not so much because I want to get my money's worth – the week-long pass earned its keep long ago – but rather out of a fear that tomorrow, on our final sea day, we'll have reached that point where cooler temperatures drive everyone indoors.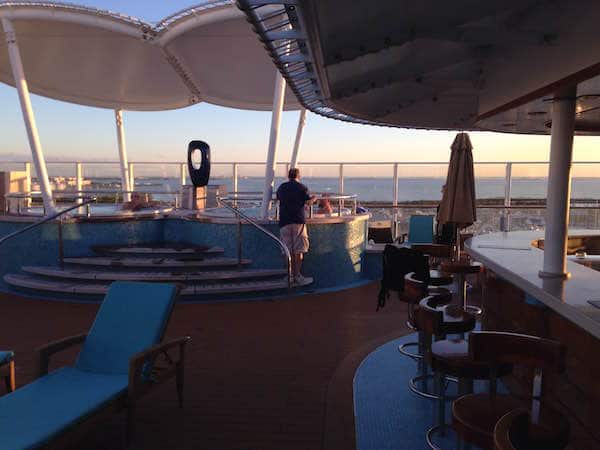 I hoped to swing by the Ocean Blue window for lunch. While many are familiar with Ocean Blue's sit-down restaurant, a surprising number of people remain unaware of the venue's take-out window, open on sea days (weather permitting) and featuring a variety of tapas-like seafood options. After three voyages on Breakaway, I can only say I've heard great things… because I've yet to actually get there during its extremely limited hours of operation. Today was no exception, as I got to talking to people and throwing back drinks, next thing I knew… no Ocean Blue for me. Here's hoping tomorrow the weather cooperates and I can give it a try. Otherwise, it'll remain both a mystery to me and something to try the next time I visit the ship.
Instead, I hit the buffet for lunch. Cruise line buffets get a pretty bad rap from some folks, but I'll tell you what: I could eat both lunch and dinner in the buffet all week and likely never have to have the same meal twice. And that's not counting the themed days held at Moderno's on sea days. (Tomorrow's is Bavarian and I may have to swing by, if only to see what it features. Admit it, the only Bavarian food you can think of is pastry. And I'm pretty sure it's not a pastry buffet… not that that wouldn't be worth diving into.)
The Loser's Lounge
The evening was not so good to me, in certain ways. The casino decided that it was not feeling generous, and the 90's Party at Spice H20 proved a literal washout thanks to drizzling rain which caused the DJ to have to pack things up about 10 minutes after it started. (The party continued at the Bliss lounge, but for me, the big draw to these parties aboard this particular ship is that they are held under the open sky. Similar parties held on ships like Norwegian Gem wind up being hosted indoors, and quickly get both packed and overcrowded.)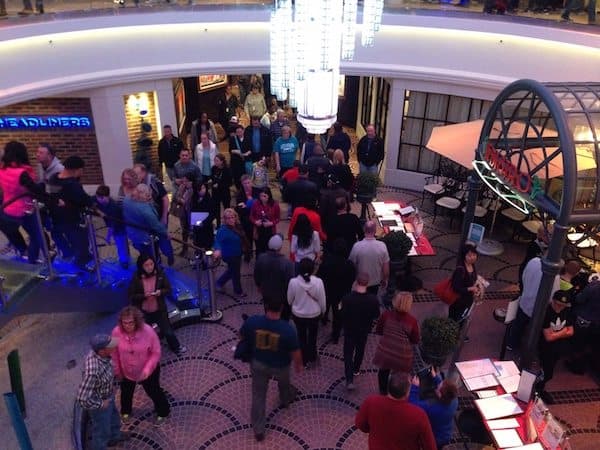 In between the casino and the party, however, was a real bright spot: dinner. Stop me if you've heard this before (from me during this week's blogs), but The Manhattan Room really is just a phenomenal spot. The food is, as I've mentioned, the same as that served in the other main dining rooms, but the atmosphere sets it miles apart. Between the décor and the entertainment, it's easy to allow yourself to be transported back in time to the 1940s. Tonight, I had the Caesar salad, a swordfish carpaccio served with a bit of salad and small pieces of jalapeno that went surprisingly well with the delicate slivers of fish, and Beef Wellington. (As someone who has had a love/hate relationship with FOX's Hell's Kitchen, it's always amazed me how much the TV chefs struggle to make this dish. So on a recent cruise, I finally had a chance to order the dish for myself, and it immediately became a favorite. I scour the menus each day, anxiously awaiting the one on which Beef Wellington will appear.) While I generally avoid desserts, when I saw Boston Cream Pie on the menu, I had to get it, if only for sentimental reasons: It's always been one of my mom's favorite desserts. This one definitely did not disappoint.
The evening ended as every evening should: Sitting on my balcony, listening to the sounds of the ship crashing through the sea, contemplating everything and nothing… including which of the bars, restaurants and shows that I still want to squeeze in will make the cut tomorrow, our final sea day.
Check out my other days aboard the cruise!