As expected, our final sea day started chilly and got progressively colder, driving all but the heartiest of folks inside and making the atrium – often considered the heart of a ship – into the place to be. But before we discuss the day's events, a confession.
Remember how yesterday's blog ended with me calling it an early night? Well, I'm afraid something unexpected and borderline tragic happened soon after: I picked up the phone, called room service and ordered a pizza. Not just any pizza, but an ultimate supreme big enough to feed several people but… well, I travel solo, so it was mine, all mine!
That's why as our final sea day began, I wasn't necessarily feeling the need to seek out food, perhaps for the first time this week! Instead, I joined a lot of other folks in the atrium, watching a series of events – Guess the Celebrity Headshot, a cake-making competition – and even dragged by a new friend onto the dance floor for a samba lesson from the cast of Burn The Floor.
Drink Up!
The atrium bar was packed all day, as was nearly every other booze-selling place on the ship. As afternoon approached, the casino seemed to have a surprising number of winners, and the mood there, which had been fairly dark most of the week, seemed lighter, more celebratory. Personally, I found a machine that let me play for about two hours on a $50 investment. I eventually lost it all, but losing at a rate of $25 an hour in a casino doesn't seem all that bad to me.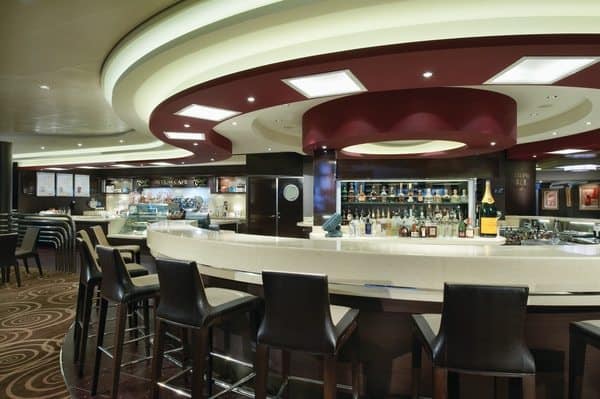 Ocean Blue's Window on the Waterfront was closed, meaning I'll have to give it a try next time I'm onboard, so I hit Savor for lunch. While chowing down on a Cajun grouper sandwich (served on a warm, soft pretzel roll), I chatted with a woman seated at the table next to mine. She proceeded to open up to me about a recent tragedy in the way that often happens amongst cruisers. We'll likely never see one another again, so for a half hour or so, I made the perfect confidant to things she might never feel comfortable telling her actual loved ones.
The Last (Onboard) Supper
I was invited by a couple of friends to check out the Studio Lounge and one of the studio cabins designed for solo travelers like myself. The lounge was a bright, fun little spot in which to hang out, meet fellow solo travelers and make plans. I'm not sure I could do one of the studio cabins – I love a balcony and need a horizon to stave off seasickness – but I'd be lying if I didn't say touring them led to temptation. My friend Dawn, a big lover of the studio cabins, said, "I feel like Jeannie in her bottle when I'm in here!"
Anyone who's been keeping up with my trip report probably has a pretty good guess where I went to dinner: That's right, the Manhattan Room. A duck harissa soup and Caesar salad set the stage for the main attraction, an 18-ounce ribeye. I knew this would come with a $19.99 surcharge, but having kept to my promise all week of only eating in the main dining rooms, I decided I'd earned the treat. And it was worth every penny.
Dinner wrapped up just in time for me to hustle over to the Breakaway Theater, where Broadway singer Carla Stickler was doing her second show of the night. I'd considered bypassing the performance, despite being a huge fan of several of the shows she's appeared in (especially Wicked, in which she played Elphaba or, as she explained to the uninformed, "the green one."). Missing this show would have proven to be my biggest regret of the week, because Stickler delivered an hour of powerhouse performances and humor. I love Rock of Ages and have seen it numerous times, but amongst the Broadway shows currently being featured on the Breakaway, Stickler's was the one to beat.
After the show, I went straight back to my cabin to pack my bags and read until I fell asleep, visions (or were they nightmares?) of the next day's disembarkation dancing in my head.
Say Farewell, For Now
I admit I was dreading disembarkation. During two previous trips aboard Breakaway, attempts to get off the ship in a timely manner had proven downright disastrous. In theory, it should be simple: I do self-assist, so it should simply mean grabbing my bags, heading to the designated area and walking off the ship. But in the past, it has meant long, frustrating waits with other equally frustrated people. This time, I headed down to O'Sheehan's around 7:30 am and was literally off the boat less than a half-hour later. Interestingly, even as I and others were walking off the ship, announcements were being made telling people that the ship had not even gotten clearance yet. Worse, a friendly but ill-informed staffer directed me to the wrong venue for priority disembarkation. Each night at Walt Disney World's various parks, they send you off with a splashy fireworks show, known as a kiss goodnight. It is their attempt to make sure that you leave the parks on a high note. For a cruise line, disembarkation is the last thing that a passenger is going to experience, making it the freshest in their memory. During past trips, I have heard people who were stuck in long, disorganized lines vow to themselves and anyone who will listen that they will never do the ship in question again. Thus, it's incredibly important that every ship works hard to make sure disembarkation is the smoothest it can possibly be.
Today, I lucked out. However, had I listened to the staff – whether via their instructions or even the printed directions left in my room – this would have been yet another disaster. I later heard from others who said that, as I'd experienced in the past, disembarkation turned into what one called "a hot mess."
Final Thoughts
This wasn't a trip I'd initially planned to take. Upon receiving the Casinos at Seas offer a few months ago and realizing just how inexpensively I could do this voyage, I knew I had to do it. Sometimes, good things really do come in small packages (or, in the case of the offer, envelopes), because this turned out to be one of the most relaxing cruises I've ever taken. In the past, my trips have been more hectic, with a bit of rushing around to see, do, taste, and drink everything. This time around, I spent more time simply chillaxing, whether in bars and restaurants or my cabin. I came back re-energized and ready to face the rest of the holiday season. After which, I'll de-stress again by taking a March voyage upon Royal Caribbean's Anthem of the Seas, and we can do this whole thing again!
Featured photo: Flickr Creative Commons
Catch up on my other days aboard the ship!