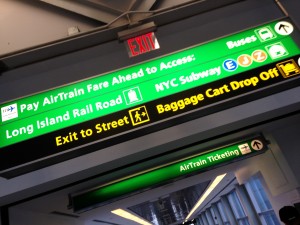 Recently we took a trip on Norwegian Breakaway, which departed from Pier 88 at the Manhattan Cruise Terminal. To get to and from JFK airport and into the city in a taxi is a flat rate of $52 plus any tolls and MTA fees. That can add up once you include the tip.
You may want to consider using the metro when you head into Manhattan, whether is be the cruise pier, exploring the city or a hotel. The ride into the city is very simple if you know what you're doing.
The AirTrain
The AirTrain is JFK airport's tram system that runs you between terminals and offsite location Jamaica Station. The train on this line also stops at Federal Circle Station, where you can pick up rental cars and hotel shuttles.
Step-By-Step
Once you arrive into baggage claim at JFK, look for the signs that say AirTrain. You can pick it up from any terminal and take it to Jamaica Station. You do not need to buy a ticket until you step off the train and step foot into Jamaica Station. The cost is $5.00, which you can buy directly from a kiosk or at an agent at the station.
Once you arrive at Jamaica Station you have a couple of options with the metro pass to get you to the subway and into NYC. They have a single ride pass for $2.75 or an unlimited 7-day pass for $30. Keep in mind there is a one-time $1 fee when you buy the card so if you are going back to the airport after your cruise or spending a couple days in the city just make sure you hang onto your card and do the reload option.
To get into Manhattan you'll want to go downstairs and take the E subway line into the city. The ride from Jamaica Station to the city takes about 30-minutes but goes by really quick.
Know what stop you'll want to get off on. Chances are if you're staying in midtown or the Times Square area you'll want to get off on the 34th (Penn Station),  42nd (Port Authority Bus Terminal – don't let the name confuse you). The 42nd streets stop is the closest to the cruise terminal.
One you get on the main street, you can head to a taxi stand or walk to the cruise pier or hotel. Keep in mind – depending on the street your hotel is on – it maybe easier to get off a stop earlier and walk up a couple of blocks.
In our case the InterContinental New York Times Square was connected to the subway stop. You'll want to research these things before hand. We didn't realize it and took a cab around the city block – in one big circle!
Subway Tips:
Keep your stuff close or under the bench you're sitting on. There a lot of people that come on and off the subway and it would be easy for someone to take something of yours, get off on the next stop and be miles away before you even notice.
Don't be afraid to ask. There are metro attendants on the actual metro line and at the station stops. These attendants will give you advice, advise you of track issues, and make your transit easier.
Keep track of your balance. There is nothing more annoying than having a line of people behind you and realizing your metro card has a zero balance. You'll have to back up and really tick the people off behind you.
This was my first experience on the NYC metro system from the airport (first time at JFK airport too) and I thought it was going to be very overwhelming. It wasn't at all and was a great learning experience. There are plenty of free smartphone apps like Kick Map, maps, signage in the terminal and attendants who'll be more than happy to assist you.
Pin this!