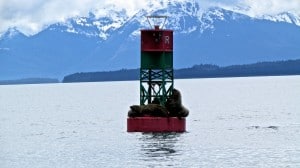 Okay, so that's an obvious question right? One is hot and one can get really cold. Well, for some people there are big differences, others,  not so much.
Though the cruise ships are typically the same, there are some of the major differences between Caribbean and Alaska cruises:
Cruise fare. Depending on the time of the year, you can get a Caribbean cruise for as low as $299 for a seven-night sailing. In Alaska, the fares stay pretty solid during the season from $599 and up. Occasionally an Alaska cruise fare will drop when the cruise line is having a hard time filling the ship.
Clothing. In Alaska you have to dress in layers. You won't walk off the ship in a pair of shorts and flip-flops, typically. The only cold you'll get in the Caribbean is the cold shoulder from your wife when she can't buy that fake designer purse.
HEAR OUR BROADCAST ABOARD UN-CRUISE ADVENTURES IN ALASKA.
Weather. While it's usually sunny and 85 year-round in the Caribbean, Alaska is a little bit cooler. I've been to Alaska in both June and August and still had to wear a swear shirt. Also keep in mind that certain times of the year Alaska can be very rainy.
Excursion costs. I'd put the cost of a true Alaska excursion almost double a Caribbean excursion. Most of the excursions in the last frontier involve day trips on sightseeing vessels, crab feasts or getting somewhere by a floatplane.
In the Caribbean you're good just putting a snorkel in your mouth and jumping into the water. You can see a full list of Alaska shore excursion prices at Shore Excursions Group. , you'll see the price difference from the Caribbean.
You don't want to skimp when it comes to Alaska shore excursions, anyone can return to the Caribbean, Alaska is usually a bucket list trip.
Extra gear. Bug spray, binoculars, extra spending money, umbrella, and gloves are all things that you'd never take on a Caribbean cruise, but almost a necessity in Alaska.
Wildlife. In Alaska there's a good possibility that you'll see a humpback whale, a bear or salmon spawning in one of the streams (especially in Ketchikan) – in the Caribbean you're more like a barracuda or porpoise.
I highly suggest heading to Alaska if you've never had the opportunity to see it. Alaska was one of those places that I never wanted to go to – I just didn't think I'd like it. Having been there a couple times, it's addicting and I want to go back again and again.
Keep an open mind, always travel with trip insurance, and keep traveling!
Pin this!