Carnival Cruise Line marked the beginning of a multimillion-dollar renovation of its Long Beach Cruise Terminal to be able to accommodate larger ships and enhance operations.  A "FUNstruction" groundbreaking ceremony was held today with Long Beach and Carnival officials, among others.
Renovation Design
During the celebration, the cruise line unveiled its design plans for the terminal. The renovation will increase Carnival's space from around 66,000 square feet to 142,000.  The expansion and new design will allow better passenger flow and an enhanced experience for everyone involved.  The project also includes the expansion of portside "cold-ironing" to enable large ships to plug into the local electric grid to reduce exhaust emissions while docked.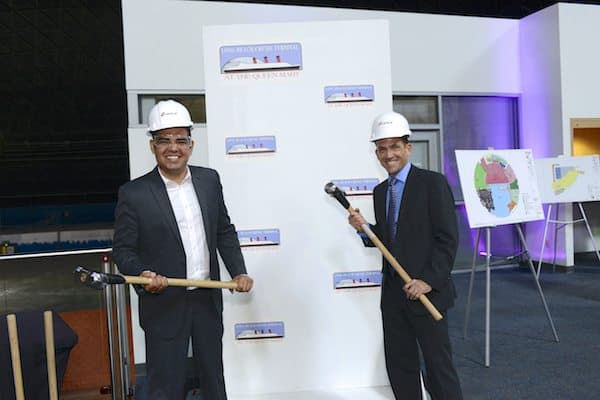 Current Operations
Carnival has run the Long Beach Cruise Terminal – the United States' only privately operated cruise terminal – since 2003.  It's one of the busiest in North America, with ships docking there five days per week.  Until now, Carnival has used just a part of the geodesic dome that housed Howard Hughes' "Spruce Goose" museum attraction for customs and check-in.  The renovation will make all of the dome available for cruise operations.
Currently, Carnival operates three ships from the terminal: Carnival Inspiration and Imagination which offer 3 and 4-day Baja cruises, and Carnival Miracle which sails week-long Mexican Riviera voyages along with 14 and 15-day cruises to Hawaii and Alaska.  In 2018 when Carnival Splendor replaces Miracle, the line will carry over 700,000 guests each year from southern California.
In addition to marking the beginning of renovations, Carnival Cruise Line VP of Strategic and Commercial Port Development Carlos Torres de Navarra announced a donation of $25,000 to the Mayor's Fund for Education.  The donation, made jointly by Carnival Cruise Line and Carnival Foundation, is part of Carnival Corporation's ongoing support for nonprofit educational and charitable organizations in the homeport communities where its lines operate.