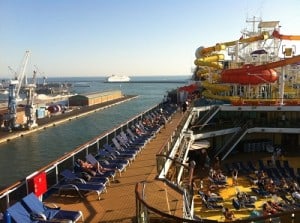 We docked in Livorno when the sun started to rise and were cleared to leave the ship around 7am. To get into town the best suggestion is a shuttle, 5 euros for a round trip transfer downtown. A couple of people were telling me you could walk to the downtown area but it would take about 40-minutes, forget that! We're in port for 12 hours. This is the port where you can do the Leaning Tower of Pisa and Florence, we did Pisa last year and is quite the motor coach ride.
I'm still lagging and I have a feeling it's going to last for another day but I had the same thing happen to me last year – the jet lag stuff sucks.
Once I got downtown I noticed it was half shutdown because it was a Sunday. I went to an internet café and worked before meeting a colleague for lunch at a little sidewalk café. There was definitely a language barrier. If you aren't fluent in Italian, my suggestion is to download at pocket translator or at least have a cheat sheet with some of the basics. If you want to buy cheap designer glasses then this is your port, they are everywhere for five euro! I hung around downtown (there wasn't much going on) and then went back to the ship around four. Where the shuttle drops off and picks up is pretty convenient to everything in the downtown area, there isn't much downtown except some cafes and shopping.
Sail away from Livorno was pretty cool, there are two statue like figures outside wall of the port and of course, what's a sail-away without a trip to the Red Frog Rum Bar? Dinner was in the Fahrenheit 555 Steakhouse and was very good. It was formal night on the ship, so people were dressed up but any other night the steakhouse isn't really a formal venue, you could get by with smart casual dress. I always get slayed by the commenters when I say I don't get formal for formal night but let's be honest, it was the first few cruises, the extra luggage and wrinkle situation isn't any good for me! If you want to check out the menu to the steakhouse and some pictures, I uploaded it here.
After the steakhouse, it was too late for us to catch the playlist production show "The Brits!" so we just went out to the Red Frog Pub and had an after dinner drink before calling it a night. Tomorrow is Civitavecchia (Rome) and it's expected to be a rough day for everyone. We are there for about 13-hours. I didn't make my way into Rome last year but instead hung around Civitavecchia (a free shuttle ride from the pier).
A couple people asked me about the Thrill Theater and though I haven't done it yet, there is a fee on it and they've been playing Happy Feet, Bamboo Express, Speed Racer and Extreme Log Ride. You can buy an all access pass for the theater or pay a one-time fee to check it out, it's located on deck four, midship.
I had to call my dad for Father's Day and was surprised how cheap it was to call home on the land line (verses cellular at sea on my iPhone). It was only $1.99/minute, enough to make a couple minute phone call and be on my way. Last time I ever thought about using the phone in the room it was $9.99/minute.
If you like pictures, make sure you're follow us on Facebook, YouTube and Instagram!
Subscribe to our Cruise News Updates.