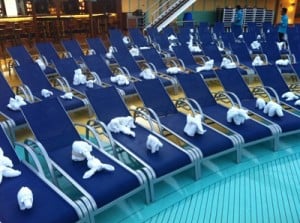 My day started, well from when I woke up yesterday morning. It was either the double espresso I had at the steakhouse at 10:30pm or the six hour nap I had earlier in the day.
So to get to the lido deck from our deck we have to go up to deck 10 and then across the pool deck. When we crossed to pool deck there was about 300 towel animals sprawled out from the pool chairs, laying poolside, on the bars and cabana areas. It was real cute and out a lot of people in the great mood. Between that and watching the sunrise over the port, it was a great start to the day.
I finally got to eat the breakfast in the Marketplace on the Lido Deck. I was hoping to check out the Blue Iguana Cantina for breakfast, they are supposed to have killer breakfast burritos but they don't start serving until 7am and we had to be in the Ovation Theater at the time for our "Rome on your own" excursion (cost $69). Overall the breakfast wasn't bad, as you know I'm not a huge breakfast person. A great selection of fruits, meats, breads, cereals, yogurts and pastries were there to choose from. A full report from the Blue Iguana Cantina breakfast is coming soon.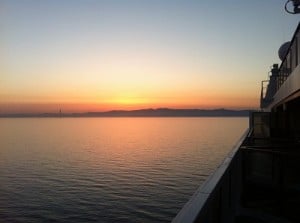 We got into the Ovation Theater and it was packed. They said some 1500 people were doing excursions in Rome and it was one of their most popular ports. *Tip* If you're a big group going into Rome and all want to ride together make sure you all go into the theater together and give your tickets together, otherwise you maybe on separate buses. We sat in the theater for about 20-minutes and then walked out to the buses, loaded up and left.he sun rising as the Carnival Breeze approached Civitavecchia.
The ride into Rome took a little over an hour, the tour provided maps and detailed directions to exactly where you want to go. Carnival has a new "Rome on your own" train excursion that you can take from Civitavecchia to Rome, the train takes less time and by passes the local stops (cost $99). If you want to by-pass the ship excursion all together, you can take a train into Rome on your own for 14 euros each way. Speaking of the euro, I learned this yesterday, the ATM in the main lobby on Carnival Breeze has an ATM that distributes euros but with the service fee, it's still cheaper to get your money from a land ATM.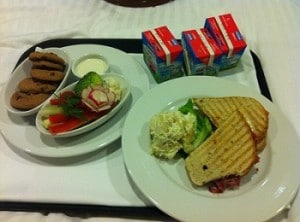 Rome is a mostly walking city so make sure you wear comfortable shoes when heading there. We were able to check out the Coliseum, Pantheon, ancient ruins and Fontana di trevi. We didn't go over to the Vatican because the line usually takes 45-minutes and I'm impatient.  Matt has a friend that lives in Rome and works as a tour guide so we were able to get a one-on-one with Rome and eat at an off the beaten path café.
We had to be back at the buses at 4pm, so we headed back around 3:30. We loaded up and it took about 1.5-hours to get back to the ship because traffic was really bad in Rome.
Once back on the ship I was beat, in fact, this is where my day pretty much ended. I took a shower, laid down and when I woke up it was way past midnight so I took advantage of Carnival's room service. All done from the television, room service was simple and the selections aren't that bad. They have hot/cold sandwiches, sweets, salads, beverages and you can even order from the bar up there. Tomorrow night we're eating at the Italian joint on Carnival Breeze, Cucina del Capitano.
Below is a little video from Rome. Tomorrow is Salerno, Italy and then we have a 'Fun Day' at sea.
If you like pictures, make sure you're follow us on Facebook, YouTube and Instagram!
Subscribe to our Cruise News Updates.
Related articles