The start of the Carnival Breeze journey was an interesting one for sure. It carried over from the previous trip coming out of Quebec. My flight was delayed out of Quebec, so I had to spend the night in Newark on Wednesday night. The next flight available was at 8:30am the next morning (which turned to be 9:20am). When I got into Jacksonville I had two hours before my flight left for Barcelona.  I was home for 40-minutes and headed back to the airport. No stress, but boy there was a little pressure on me.
The flight to Miami was uneventful, flew on an American Eagle jet and it was 64-minutes. The big flight was nine hours from Miami to Barcelona. I was able to sit with Chris Owen and his wife, Lisa. Sitting next to people you know is a lot better than with complete strangers. The food was good; we were served dinner, snack and a continental breakfast. There was no internet on the aircraft or power plugs; thank god Chris had a battery charger for me to charge my iPhone.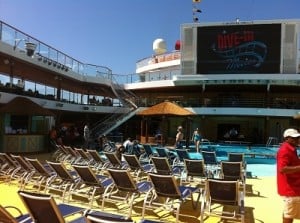 We arrived into Barcelona right on time and getting off the plane was fairly quick. There was no one in the customs line, so that was a breeze, plus no forms to fill out, loved that. The bags were already on the belt when we got to the claim area and waited for our cruise ship transfers. After I picked up my bag I saw that there was free Wi-Fi for 15-minutes. Excited!
Our first glimpse of Carnival Breeze was flying into Barcelona. There were two other cruise ships in port – such an awesome site flying in. The transfer ride from the airport to the cruise terminal was about a 20-minute ride and we got to see the famous Montjuic Cemetery, because it's so rocky and mountainous, the deceased are stuck in tomb like boxes, on the side of the mountain.
The boarding process was very streamlined, you went to get your photo taken by the photographers, then for your sign and sail card, and then you were on the ship. The first impressions of the ship, was very tropical, a Caribbean resort meets Carnival Cruise Line but more on that later…. First things first, headed straight to Guy's Burger Joint and to the RedFrog Rum Bar to get a ThirstyFrog Red, after lunch I went walking around the ship to the new venues like Bonsai Sushi and Fat Jimmy's C-Side BBQ. The BBQ joint is open, but is located just outside the plaza café on deck 6. They just made the announcement that the rooms were ready, which is a nice touch (it's 11:45am).
As for right now, I'm going to explore Barcelona. Be sure to follow all of our pictures on Instagram, YouTube, Facebook and our SeaBlog.
What do you want to know about Carnival Breeze?
As always, be sure to subscribe to our Cruise News Updates.