Carnival Breeze has officially packed up and moved to a new home – Galveston, Texas!  To celebrate her arrival, Carnival and the NFL's Houston Texans hosted "Moms Dash to the Splash" yesterday for Mother's Day.
The event featured football players DeAndre Hopkins and Brian Cushing competing with local moms in a water slide race for charity.  A traditional maritime plaque exchange also occurred, between the ship's Captain Vincenzo Alcaras, and the Port of Galveston's Director Mike Mierzwa.  The event was also the official beginning of Carnival's partnership with the Houston Texans.
Following an onboard pep rally featuring the football team's cheerleaders and the Deep Thunder Band, local Texas moms, selected via an online contest, competed with Cushing and Hopkins in a head-to-head water slide race on the ship's Twister slide and DrainPipe water slide attraction.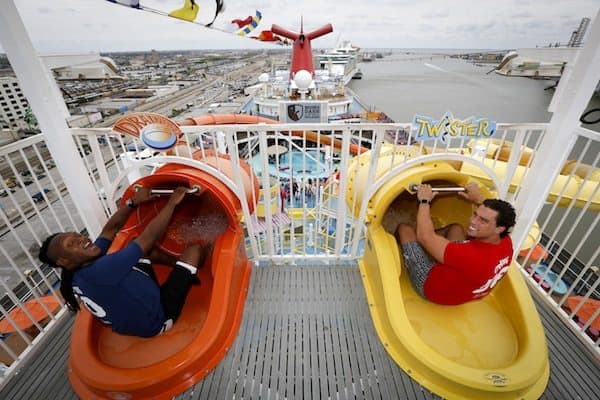 Brian Cushing's team won, and received $10,000 for the Brian Cushing Foundation, which supports military families.  As runner-up, Team Hopkins received $5,000 for the Houston Food Bank.  All participating moms received a free Carnival cruise, and they, along with the spectators, were also treated to a Mother's Day brunch before the race.  "It was great to participate in 'Moms Dash to the Splash,' and receive $10,000 for my charity," remarked Cushing.  "Mother's Day is about spending time with family and having fun, and today was a great way to do just that aboard the Carnival Breeze."
In addition to Carnival Breeze, which is launching seven-day service to the Caribbean, Galveston houses Carnival Liberty and Carnival Freedom.  They offer four to seven-day voyages visiting ports in the Caribbean, Bahamas, and Mexico.