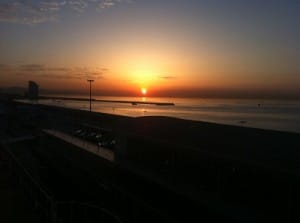 Well it finally comes to an end. Carnival Breeze's 12- night sailing through the Med is officially over and done. We had baggage tags put in our room last night and the bags had to be out by 10:30 if we wanted to check them and pick them up pierside. I carried mine off the ship – pretty heavy with my video gear, audio, computer and luggage but made due.
John Heald started the disembarkation process at 5:30, super early! The announcements were not broadcast in the cabin but it was enough to wake you up. Our transfer was at 8 am so we had to meet in the conference center at 7:30am. The Carnival transfer from the ship to the airport was flawless.
We waited in line at the American Airlines ticket counter for over an hour just to check out bags. It was very strange because everyone was already checked in and just had to drop bags off, the line moved at a snails pace. I purchased the $49 upgrade on American Airlines on the return flight. I was booked in row 41 but I was able to snag row 10 and get moved to boarding group 1, well worth the investment.
Flying transatlantic is still a killer for me. The flight to Miami was 9.5 hours. No plugs, internet, and not comfortable enough to sleep was a killer.
Overall the trip on Carnival Breeze was great. 12-night was definitely a good amount of time to scout out the whole ship, eat and do everything. This is Carnival's last new-build for now. Next up is more of the Fun Ship 2.0 upgrades and Carnival Destiny transforming into Carnival Sunshine next spring, that's going to be a huge project!
Subscribe to our Cruise News Updates.
Related articles