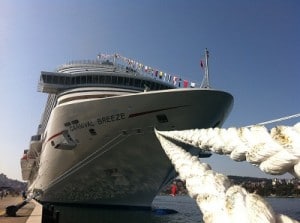 Dubrovnik, Croatia is one of my favorite ports because of the stunning views and history of the whole area. My goal was to get off the ship early before our 9 am private-tour excursion so I could get caught up in the internet café. Turns out the internet café was there but they only had desktop stations and that did me no good having everything is on my laptop.
Someone emailed me and asked me if cruise lines still did trivia or if that was a thing of the past like shuffleboard. There is trivia played on Carnival Breeze, today they had 80's trivia. You can still find shuffle board on some ships.
You will rarely catch me doing a cruise line excursion because I'm not a big person for crowds, I like to venture out by myself of catch or do like I did for today and that was to book a third-party excursion through Viator.
Viator is a tour company that's been around a while but has recently started going after cruise excursions aggressively. Not going to lie, I am usually skeptical of third party shore excursions because the cruise lines have basically scared the crap out of everyone against booking them. This excursion was excellent and the peace of mind that if you miss your tour on a Viator excursion, they will personally get you to the next port of call.  The tour I booked was Cavtat, a city outside of Dubrovnik. Once I got off the gangway, a driver was standing there holding a sign with my name on it (fancy huh?). He gave us a rundown of the five-hour tour and we headed outside of the cruise port. Since there was only two of us, where ever we wanted to go, we went.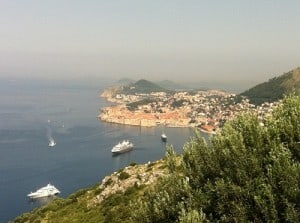 The first stop was to a lookout point where we could take a picture of old town Dubrovnik, then went to a small village called Cavtat, then to the old city of Dubrovnik where we walked inside the city walls and ate just outside the walls. The tour ended at 1:30 and we were dropped back off to the ship. Since we had a driver and a tour guide, I extended gratuities to both of them.
After the tour I went back to the internet café and did the basics that I could from a desktop computer and found a $1000 Nikon camera just sitting there. I stayed at the café for about an hour and no one came back to claim it. So I brought it to my room, looked through the pictures to see if I could find a picture of the owner. After searching the ship for thirty minutes deck by deck, there was no luck. My balcony overlooked the cruise port so I stayed on my balcony and I spotted the guy going into the internet café. I found him! I raced down the stairs and asked him if he was missing a camera, he was, and I returned it to him. Turns out him and his wife lived right down the street from me when I lived in Nashville. Small world. He said I saved his vacation because they had 1200 pictures on that camera. Glad I could help.
The sail away out of Dubrovnik was spent at the BlueIguana Tequila Bar trying a variety of different drinks. Personally I'm not a big tequila person because it gives me heartburn but the Blue Patron Margarita wasn't that bad and pretty strong. After that we had a couple of beers with the couple from Nashville, interviewed them and then took some photos of sail away.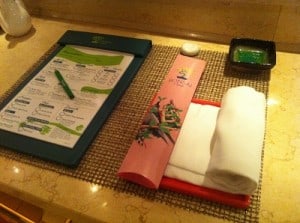 Dinner tonight was in Bonsai Sushi, I dined there with a colleague from Cruise Critic. If you like sushi and want the best deal buy the sushi ship, two ships of sushi, two salads and two soups. . There is a surcharge at this venue but it isn't much. They also served sake by the bottle for $12. You can spend from $1 to $15 there depending on your appetite. My bill was like $9. Bonsai Sushi gets crowded but there's usually a table open and if there's not you can always sit at the sushi bar where they make the rolls right in front of you.
After dinner we were able to check out the Library Bar on board. Wine dispensers for you do-it-yourselfers and also a bartender was also available. I think we were a little loud in the library bar but that's what happens when you put booze and hyperactive people together. A great location on deck four though.
After the Library Bar I headed back to my room.
Tomorrow is Venice, Italy. I was in Venice last year but it was all a blur because I was up for 36-hours. Looking forward to St. Marks and venturing out in the city.
If you like pictures, make sure you're follow us on Face book, YouTube and Instagram!