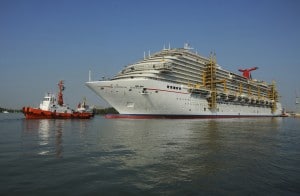 Carnival Cruise Line's newest ship, Carnival Breeze, reached another milestone on Friday when it was floated out of Fincantieri shipyard and touched water for the first time. The photo (pictured right) shows tug boats pulling Carnival Breeze away from the dry dock and to another pier where it will be fitted and made sea ready.
Before the float out, the 3,690-passenger Carnival Breeze had a coin welded on the ships mast, a maritime tradition dating back to Noah's ark. Okay, not really that far, but it's maritime tradition believed to solicit good fortune for the ship, its crew, and its passengers.
Carnival Breeze is scheduled to enter service June 3, 2012, with a special 12-day cruise from Venice to Barcelona, positioning the vessel for a summer schedule of 12-day Mediterranean cruises.  Following its trans-Atlantic crossing, Carnival Breeze will launch year-round six- and eight-day Caribbean cruises from Miami November 24, 2012, becoming the largest Carnival ship to ever sail from that port.
Photo credit: Carnival Cruise Lines