One of the cool parts about doing Cruise Radio is being able to talk to a lot of different people and delve into their position on-board. Today we started out with John Heald's assistant Calvin, we did a video interview with him in the night club inside one of the cages (yes, the night club has two cages in it, very South Beach). He was a riot.
After the first interview we went to The Punchliner Comedy Brunch presented by George Lopez. The comedians this go-round were very funny. The first one was from Toronto and the second one was from Las Vegas. We interviewed both of them after brunch. I went with the filet and eggs on this one, both delish.  After we interviewed the comedians we did some video stand-ups around the ship and interviewed the host of Hasbro, The Game Show, Butch. I actually interviewed Butch back in December on Carnival Liberty. They picked the right guy to host Hasbro, The Game Show, he's slick. Butch is full of energy and plays the role well.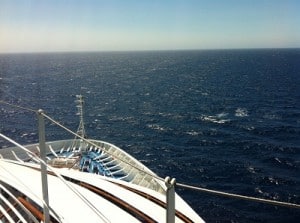 We got to tour the navigational bridge and interview the captain at 3pm, that was cool, basically standing on the bridge of the newest cruise ship in the world (at the time I write this). The captain hails from Sicily and said it was quite the experience bringing Carnival Breeze into his homeport.
After interviewing the captain, we went down to the Red Frog Pub and ordered every menu item to try it out all. The conch salad was super spicy! The chicken wings, sliders, grouper fingers, mini-burgers, shrimp and conch fritters were all very good. All the snack size items run $3.33 each.  
Earlier today I used the new Sail and Sign kiosk to manage my account. It's a neat feature, I've seen them on different ships for about a year but you can pull your folio, apply cash payments, other credit card payment. I used it to apply $100 to my sail and sign account.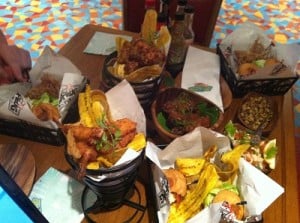 Someone emailed me about the smoking areas on the ship and they are as follows: the entire portside lania , deck five from forward to aft, deck 11 near sports square, Liquid nightclub when open and the port side of the Winner's Luck Casino Bar. You can still smoke on your stateroom balcony but not in spa suite balconies.
Tomorrow we are in Palma de Mallorca. This will be my first time to this port so I'm excited to check it out. They have this really old cathedral dating back to the 1200's.
If you like pictures, make sure you're follow us on Face book, YouTube and Instagram!
Subscribe to our Cruise News Updates.
Related articles