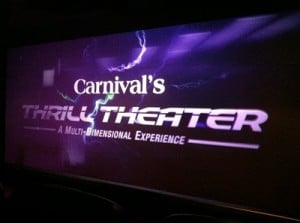 What's the best thing about a Fun Day at Sea? Being able to sleep in. All those port days kicked my butt after flying transatlantic last week and hopping from port to port, but it was a good intense.
Our day started by checking out the Thrill Theater, this is Carnival's new 24-seat theater located on deck four. There is a cost to this but in my opinion it's worth the $7.95 or the unlimited pass for $14.95. The whole area is set up like a box office; you pay and get a pair of 3D glasses and take a seat. Everyone who was in the theater with me said sitting in the front row was awesome. Two short movies played, SpongeBob and Happy Feet. You will get sprayed on the thrill experience and there is a lot of seat jolting. The kids absolutely loved it – I thought the SpongeBob appealed most to me. They also play Mumble's Wild Ride, Planet Earth and a couple others that I'll have to get for you later.
After the thrill ride we did the Punchliner Comedy Brunch Presented by George Lopez. This brunch happens on sea days between 10am-1pm. We did the 10am seating in the Sapphire Restaurant and the menu was very broad and covered everyone's taste. Personally, I thought it was difficult for the comedians to perform that early because they are used to the late night drunk crowd, instead of the early morning hung-over crowd. You can see the menu for comedy brunch here.
The day at sea was very nice out which brings me to the Lido deck area on sea days. I didn't feel like the Lido deck was all that packed throughout the day. I hung out at the Red Frog Rum Bar listening to music for about three-hours and not once did I see a line for Guy's Burger Joint, the taco bar at Blue Iguana Cantina, there was however a small line at the burrito bar but that's expected because those are done to-order. The Lido Marketplace had a couple of decent lines. *Tip* If you choose to dine in the Lido Marketplace, usually the buffet lines in the back instead of up front, a lot of people have yet to find them. Also, a lunch tip is Cucina del Capitano, you can enjoy complementary lunch up there whereas at night time there's a $12 per person charge.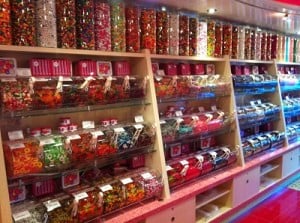 Dinner was nice, we dined in the Blush Restaurant and I did prime rib and lobster. There wasn't a surf and turf on the menu but I was able to order one of each (because I'm fat!). But before dinner we checked out The Taste Bar, a little gathering place before dinner.
After dinner I checked out one of their new shows a part of Playlist Productions called "Divas." I have to say having a background in radio, I've been to a ton of concerts and I'll put the new Playlist Production shows up against any big concert I've seen. The LED boards, lasers, lighting and technology behind this show reminded me of the Kenny Chesney show I went to recently. The Divas show incorporated Madonna, Katy Perry, Prince, and others. The cool thing about these new shows is they aren't over 30-minutes, perfect for someone who has the attention-span of an ant, like me. I took a stroll through the new specialty store Che
Tomorrow we're gonna be in Dubrovnik, Croatia. I was able to get a tour through that third party excursion company Viator. I'm stoked to get out and explore the town. The private tour we booked was to check at Cavtat and old town Dubrovnik.
If you like pictures, make sure you're follow us on Facebook, YouTube and Instagram!
Subscribe to our Cruise News Updates.
Related articles