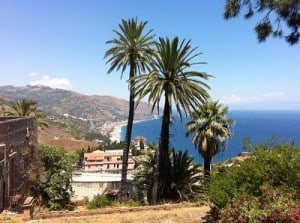 We have about eight-hours in port today. I booked an excursion to Taormina , a city located on Sicily about 45-minutes up the coast from Messina. We met for the excursion at 10:15 in the Ovation Theater and boarded the bus to headed to Taormina . Last year when I was in Messina I just walked the down and had lunch at a little café, much different this year.
On the ride from Messina, Italy to Taormina we got to see Mount Etna, an active volcano and we were lucky because it was a clear day and we could see plumes of smoke coming out of it. About 10-minutes later we arrived in Taormina and were let out to explore. The first thing we did was grabbed lunch from this cafe overlooking cliffs and the bay, it was breathtaking. The pizza's served there were very affordable, I want to say like 8 euros.
Since we were on one of those "on your own" type tours we took the funicular down to the beach.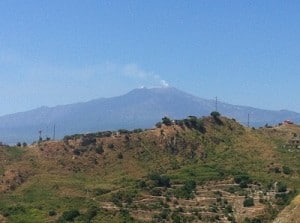 *Tip* If you want to check the beach out, take the funicular down, it runs every 15-minutes and cost $6 round trip. Just don't cut it close because everyone on the beach takes it down and if you get caught on the beach you may get a great picture of Carnival Breeze sailing into the sunset. We went down to the beach, had a beer and made our way back up. We had to be at the meeting point at 4pm so that gave us about four hours in the area. The ride back wasn't that bad. The broken English sometimes makes it very hard to follow along so I rocked out to Kenny Chesney.
I met a group for pre-dinner cocktails at the Ocean Plaza bar. There was a lot of dancing, music and the social vibe was really hopping. The Ocean Plaza bar is always where they do Superstar Live, where you karaoke with a live band. Great concept.
For dinner I went to Bonsai Sushi again – we bought a bottle to sake and a bento box. I fell in love with the shrimp tempura there, the crab roll, not so much. A $12 bottle of sake was awesome, served warm or cold. Loved! My bill was like $20 for a bottle of sake, bento box and a 1.5 liter of water – not too shabby. So far I'm really loving the dining venues aboard Carnival Breeze.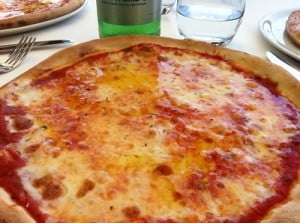 Tomorrow is our last sea day and we are slammed with interviews. This is the fun part, doing back-to-back-to-back interviews. We'll be doing video and audio.
If you like pictures, make sure you're follow us on Face book, YouTube and Instagram!
Subscribe to our Cruise News Updates.
Related articles