So I was told that Salerno is a port that serves as an alternate to Naples, and I thought it was much better than Naples. We arrived into port at 8am and were able to get off immediately. If you want to beat the excursion rush then you'll want to get off the ship right when it clears customs or wait an hour or so til all the excursions are gone.
We were told that there was a free shuttle into town but turns out it cost 5 euro, no big deal – beat walking in the heat of Italy. The shuttle ride dropped us off right in the heart of downtown and my first goal was to find an internet café. Travel writer Chris Owen was with me and we were able to find an internet café above some electronic store. It cost 2 euros an hour.
We decided to take a city bus up to the castle that overlooks the island. We got on the wrong bus, wound up in a town where no one knew English and my Google translator wasn't working because of the lack of signal – it was an interesting position to be in. We finally learned that a bus would soon come through again. Sure enough a bus came through a few minutes later and we went back down to Salerno. It was a crazy situation to be in but life's all about adventures, right?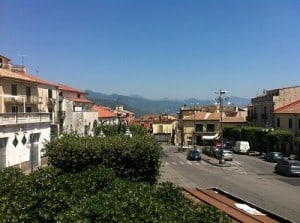 Sail away from Salerno was cool and I was able to get a bunch of cool pictures before going to eat at the Italian venue Cucina del Capitano. Our seating was for 8pm and when we went up there to sit down there was a cool view from our table of low clouds in the mountains of Salerno.
Cucina del Capitano is located deck 11, aft, upstairs in a quaint little area above Lido Marketplace, open daily from 5:30-9:30p ($12 for adults and $5 for children). The whole premise is based on American-Italian dishes that were inspired by captain's and officer's childhood meals. This premium venue is decorated like an Italian home complete with the wooden chairs and checkered table cloths. *Tip* Cucina del Capitano is open for complementary pasta lunch.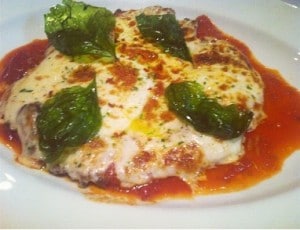 The food in Cucina is served family style, I went with the calamari, caprese salad and chicken parmigiana with a side of pasta. I had to skip dessert because I was so stuff from the portions but they had awesome dishes like tiramisu, cannoli and limone sorbet. The chicken parm was almost as big as the plate. They also have singing and dancing in the venue every 30-minutes or so, your typical Italian music. Overall the experience was great and Cucina del Capitano promises to be an awesome meal (at least if you love Italian food like me).
After dinner I made my way to the Ovation Theater where this incredible young lady named Claire Gobin was playing the violin. I'm not much for classical music but she had the show band backing her and it was spot on. Very impressive! Afterwards I went to crash out – still exhausted and well past being dehydrated from back-to-back days in Rome and Salerno. I'll figure this stuff out one day.
Oh, when I got back I had three towel animals on my floor so I couldn't resist the photo opportunity!
Carnival Breeze continues to wow me day after day – I can't wait to check out even more of the new features.
Coming up tomorrow: Thrill Theater, the Punchliner Comedy Brunch Presented by George Lopez and we're going to check out The Taste Bar.
If you like pictures, make sure you're follow us on Facebook, YouTube and Instagram!
Subscribe to our Cruise News Updates.