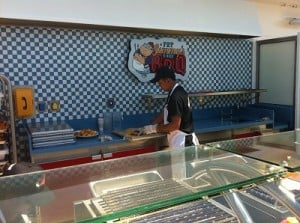 Being a BBQ freak and living in the south I was excited for today, getting to try Fat Jimmy's C-Side BBQ.
Yes, it can be done, a cruise ship can make great BBQ, just like they do in the South and I was actually impressed. Going into the whole thing I was trying to figure out if they could duplicate great BBQ, they can. Since I slept in today, my day started with the BBQ joint, located deck five, outside, starboard side.
Jimmy's C-Side BBQ is open every sea day (for now) and it's best to try to get there on the first sea day because by the end of the cruise everyone knows about it and the secret's blown. You start with some fixins like coleslaw, potato salad then move down the line to a selection of meats like sausage, pulled pork and boneless bbq chicken breasts. They also have jalapeno cornbread, garlic bread, beans, corn and a drink station at the end. By far one of my best lunch meals on there, even beating out those awesome burgers from Guy's Burger Joint!
At 5pm I went to check out Hasbro The Game Show, this was the third game show this cruise and it was cool watching a board game come to life. The game played this installment was Connect Four. Audience members got to participate and they divided the audience into two different teams, the Blue and Red team. Every cruise they play four different games and they were all a big hit. It's a real game show setting. They have cameras, a game host, graphics and give away prizes worth like $150.
The Taste Bar theme tonight was from the BlueIguana Cantina, a nice tortilla lime soup and a spiced pulled pork. Dinner in the main dinner room was okay. Maybe because it's a new ship but there's been a couple of hit and miss nights in the main dining room. Some of the food has been outstanding and other times have been just OK.
I got an email asking about Cellular at Sea and the cost of it. If you want to use your cell phone it's $2.39 a minute when on the "Cellular at Sea" network and .50 cents a text. Over the years I've the price of calling home from the ship go way down. Back in 1999 when I was on Carnival Destiny it was $9.99 a minute to call him, then went down to $6.99, now it's $1.99. Either way MTN is taking you to the bank but having satellites zooming around the earth can't be cheap either. Fair enough.
We had a chance to do a video and radio interview with John Heald today — he gave us some good advice on where to go in Europe and some tips.
Tomorrow we're in Messina, Italy. Excursion time!
If you like pictures, make sure you're follow us on Face book, YouTube and Instagram!
Subscribe to our Cruise News Updates.
Related articles