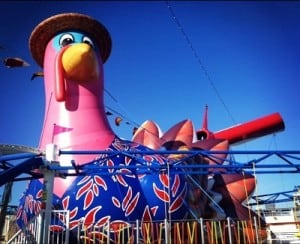 Carnival Cruise Lines brand new 3,690-passenger Carnival Breeze sailed into Miami early this morning sporting a 50' vacation-inspired inflatable turkey, 14 stories above the water line, wearing nothing but a straw hat and Hawaiian style shirt.
The line will also provide a charitable donation to Feeding South Florida that will provide 137,500 meals to families in need throughout the region.
Carnival Breeze will be the largest Carnival ship ever homeported in South Florida. Following a two-night introduction cruise, the ship will start it's cycle of six-and eight-night Caribbean itineraries.
Welcome to Miami, Carnival Breeze!
See our early morning arrival picture on our Facebook Page.
Subscribe to our Cruise News Updates.