Last year I was in Venice but my day was a blur because my cruise originated there and I was up for 36 hours by the time we got there. So this year, I was bound to make it happen. We arrived in Venice and the ride in was so picturesque.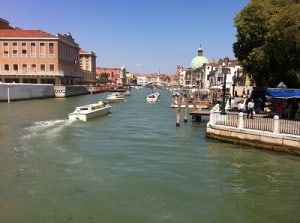 There was a little issue in Venice when we got there but it really wasn't at all. It seemed that the lovely folks in Venice decided to strike the day before we were there and were gonna throw down a 24-hour strike. We almost missed the port of call all together but they scrambled to get us some boats to shuttle us down to St. Mark's Square. If you choose to go on the boats, it was eight euros round trip. There was also a people mover (that was supposed to be closed) for 1 euro each way. I decided to walked into town, it took about 20-minutes, I've gained way to much weight the past week.
The ship cleared customs around 10 am and we were able to disembark the ship and head into town. Since there was the strike and tons of people waiting to catch the shuttles into St. Marks, I stayed on the ship and had lunch at the BlueIguana Cantina/Guy's Burger Joint before venturing into town.
By the time I was done with lunch I was able to walk off the ship and walk into to plaza from the ship. The walk into town took about 20-minutes and wasn't bad at all, you just had to cross a couple of bridges.
Venice has city-wide wifi for 8 euros a day so I was able to do some work from under a bridge in Venice while people watching and then went to venture out. I did all the touristy things like St. Marks, walked the channels and used the bathroom in the train station that cost a euro and was disgusting. One cool thing about Venice is that you can catch a train from anywhere in Europe from there and there's a lot of backpackers. I should have done more research for Venice but I was so busy getting ready for the trip and doing video/audio that it was almost impossible.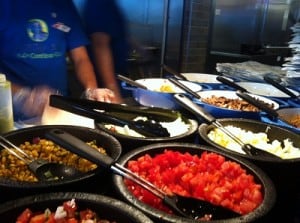 When I got back on the ship I skipped the main dining room and went to eat in the Lido Marketplace and tried the wok. The Lido Marketplace is completely redone from the past Carnival ships. I mentioned that the new Carnival is very Caribbean and this venue is no exception. There's almost like little picnic tables with umbrellas set up inside along with new little nooks and cranny's to eat. The Marketplace closed at 9:30 and I cut it close but was able to eat everything I wanted.
After dinner we wound up in the Red Frog Pub, as usual. The sail away out of Venice was awesome and just like I remembered last year – very picturesque. We hung at the Red Frog Pub til about two and then crashed out. We don't have a port tomorrow so we're able to stay out late!
We interview Senior Cruise Director John Heald at 2:30pm tomorrow in The Library Bar.
If you like pictures, make sure you're follow us on Face book, YouTube and Instagram!
Subscribe to our Cruise News Updates.
Related articles