I somehow doubt that there has been a previous record set for the "world's biggest cruise ship made out of canned food," but if there was, Carnival Cruise Line just broke it.
Capping off a festival holiday food and fund drive benefiting the Second Harvest Food Bank in New Orleans, the cruise line worked hard to construct the massive food-structure.  The drive was sponsored by Carnival and the NFL and involved local schools.  The cruise ship was built in consultation with the New Orleans chapter of the American Institute of Architects, and was 30 feet long, using over 17,000 cans of food.  That's a lot of peas and spaghettios!  It even included the cruise line's signature funnel and running lights.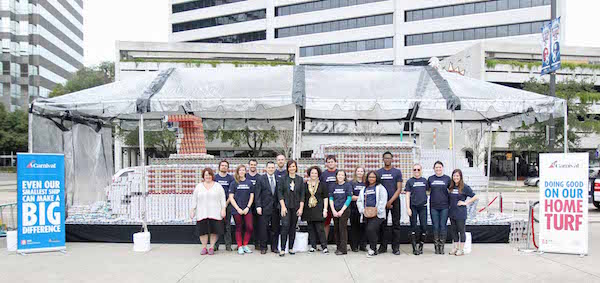 Both Carnival and the Saints offered incentives to the schools for the food drive; classes were awarded pizza parties, lithograph footballs, and even free cruises to schools who collected the most cans of food.  The winning schools were announced during halftime.  The initiative will provide over 75,000 meals for those in need in the area during this Christmas season.
Carnival is New Orleans' largest cruise operator, with two year-round ships.  The cruise line will expand their capacity on their short cruise program from the city with the sailing of Carnival Triumph there this coming spring.