Today Carnival Cruise Line celebrated the opening of Splash Island at Atlanta's historic Adams Park.  Along with dignitaries and local families, the festivities included a ribbon cutting and plaque unveiling with Carnival execs, MBA All-Star Dominique Wilkins, Parks and Rec commissioner Amy Phuong, and Atlanta Mayor Kasim Reed.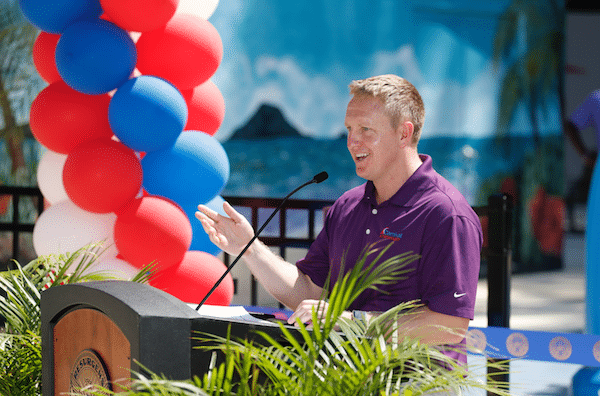 Following the ceremonies, families did not hesitate to test the latest, wettest place in town.  The interactive red, white, and blue splash pad, funded in part by Carnival, is inspired by the line's onboard water experience, WaterWorks.  Splash Island features lounge chairs, tables, and landscaping around the pool area, and an art mural by Miami artist Nicole Salgar.  Other fixtures around the new water park area include splash buckets and cannons.
READ MORE: Carnival Vista Entertainment Detailed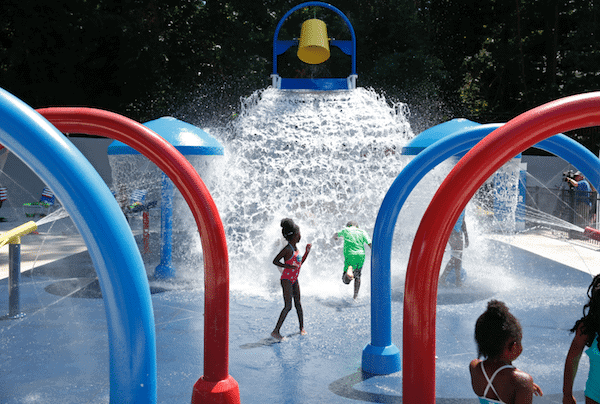 Carnival's partnership with the City of Atlanta to complete Splash Island is just part of a larger restoration project.  Park Pride also contributed to the transformation of the Adams Park pool.  With school out for the summer, the fresh space is expected to be a major go-to spot for area families.
Photos: Carnival Cruise Line