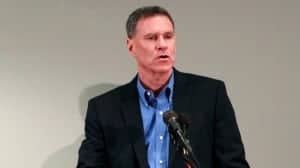 Earlier tonight CEO of Carnival Cruise Lines, Gerry Cahill, released the following email to past guests of Carnival Cruise Lines:
Hear our broadcast with a guest who was aboard Carnival Triumph here.
"Dear Carnival Past Guest,
We realize many of you have been following last week's events on the Carnival Triumph and I wanted to take this opportunity to provide you with some information. Additionally, I wanted to thank many of you who have taken the time to write to me personally to express your support.
Let me begin by saying that all of us at Carnival deeply regret the hardship our guests had to face during their days on board the ship. Our number one concern was to ensure the safety and welfare of our guests and crew and to get them home as soon as possible. Our shipboard and shore side teams worked tirelessly to take care of them and minimize their discomfort and inconvenience. We also focused on making sure their loved ones had a direct link to our Family Support Center where they could obtain round the clock information on their family and friends on board.
Now that all the guests are safely home, our efforts are firmly focused on the ongoing investigation into the root cause of the fire and what measures we can take to ensure this does not happen again. These efforts are taking place in collaboration with the U.S. Coast Guard, the National Transportation Safety Board, the Bahamian Flag Authority and other independent parties. We know, however, that preliminary investigations indicate the cause of the fire was the result of a leak in the fuel return line for the number 6 diesel generator.
The safety and security of our guests remains of the utmost importance to all of us here at Carnival. All our ships are safe and secure. All of them meet, and in many areas exceed, all regulatory standards. I promise we will continue to investigate in order to understand what took place and to learn what steps we can take to improve going forward.
During the past week, so many of you have written letters, emailed, posted on Facebook or tweeted to show your support for all of us here at Carnival during this difficult time. Your thoughtful comments and words of support are so greatly appreciated. Thank you. It has really meant a lot to us.
We know you can choose from a vast variety of vacation options and that you expect a fantastic vacation from us. We are very sorry that this time we did not deliver. I want to personally acknowledge how much we appreciate and value that you have chosen to spend your vacation time with us at Carnival in the past. We hope you will continue to do so in the future and are committed to doing everything we can to provide you with a fun and memorable vacation experience.
Thank you again for your support.
Sincerely,
Gerry Cahill
President and CEO
Carnival Cruise Lines"
Subscribe to our Cruise News Updates.