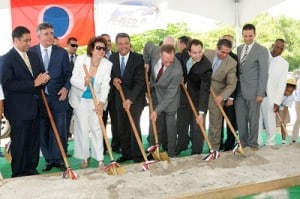 Carnival Corporation & plc. broke ground Monday on the new $65-million dollar Amber Cove Cruise Center in Dominican Republic, expected to open in 2014. The cruise center is located on the Bay of Maimon located near Puerto Plata in the country's North Coast
The new 30-acre facility will offer a host space for local vendors, bars, restaurants and a waterfront attraction. The two-berth facility will accommodate 8,000-cruise passengers and 2,000-crew daily. The new cruise center is expected to have 250,000-guests in the first year of operation.
"This is a glorious day for the Dominican Republic. It is already being inscribed in the annals of our recent economic history as one of the most significant steps we have taken to assure the transformation and development of Puerto Plata, the northern region, and the entire country," said President Leonel Fernández Reyna.
This is a joint project between Carnival Corporation & plc. and the Rannik family of Grupo B&R.
The last cruise ship to call at Puerto Plata was nearly 30 years ago.
Source: Carnival
Subscribe to our Cruise News Updates.