Costa Cruises celebrated the float-out today of its new flagship, Costa Toscana, at the Meyer Turku shipyard in Finland.
During the float-out ceremony, Costa Toscana officially touched the sea for the first time with the flooding of the basin where she has been built. The vessel is scheduled to enter service in December 2021.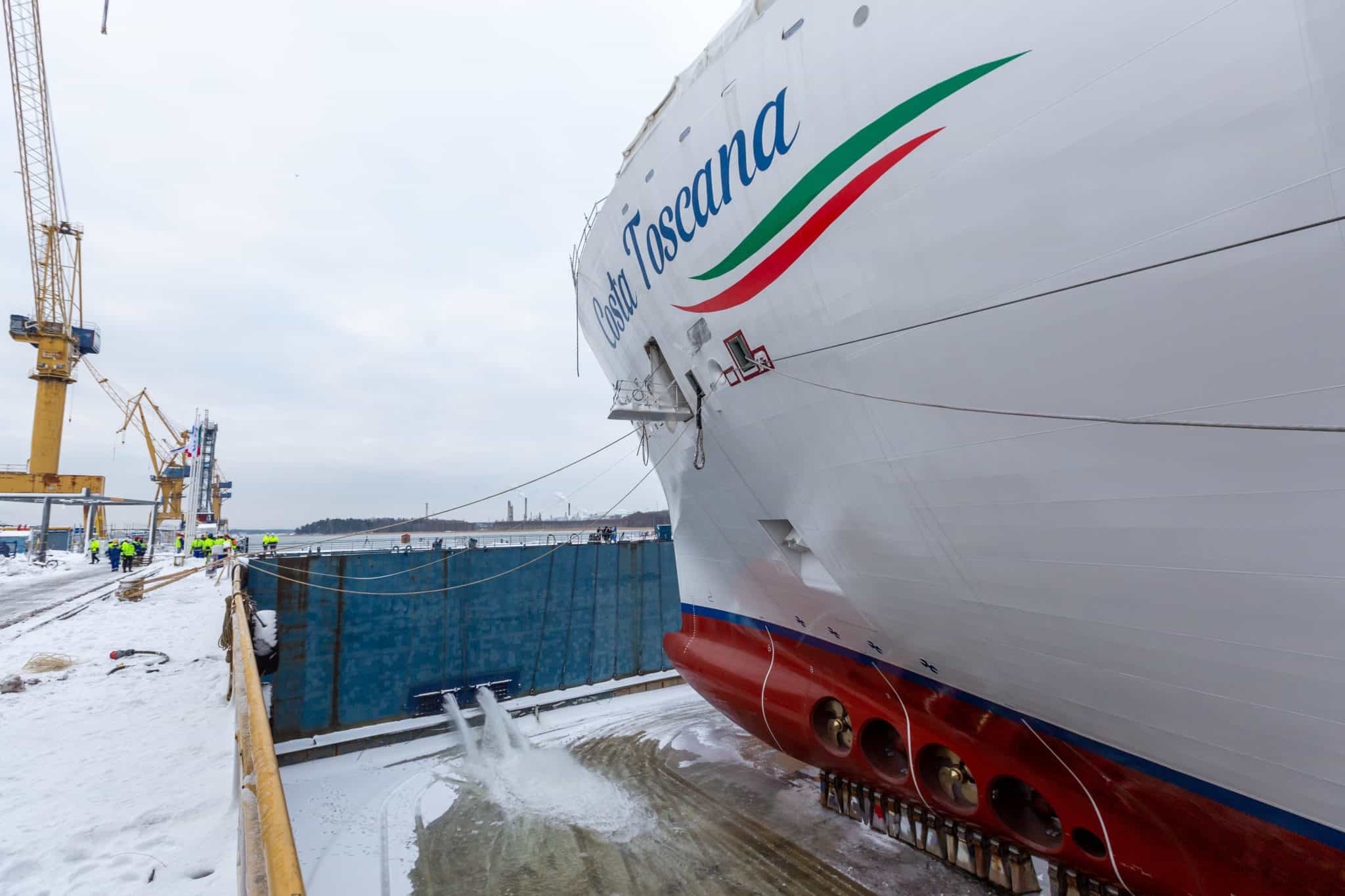 "The float-out is always a very special occasion for us shipbuilders, as the ship is finally set to her natural environment. As this is also the start of the final stage of shipbuilding, all the exciting colors, venues and features will start taking their final form. In the coming months she will be finalized at the pier and then tested and commissioned in the autumn for delivery," CEO of Meyer Turku, Tim Meyer, said.
Environmentally-Conscious Vessel
Just like her sister ship Costa Smeralda, Toscana will be powered by liquefied natural gas (LNG), the most advanced fuel technology for fuel emissions in the marine industry. Costa Group, which includes Costa Cruises, AIDA Cruises, and Costa Asia, ordered five new LNG ships, two of which have already entered service.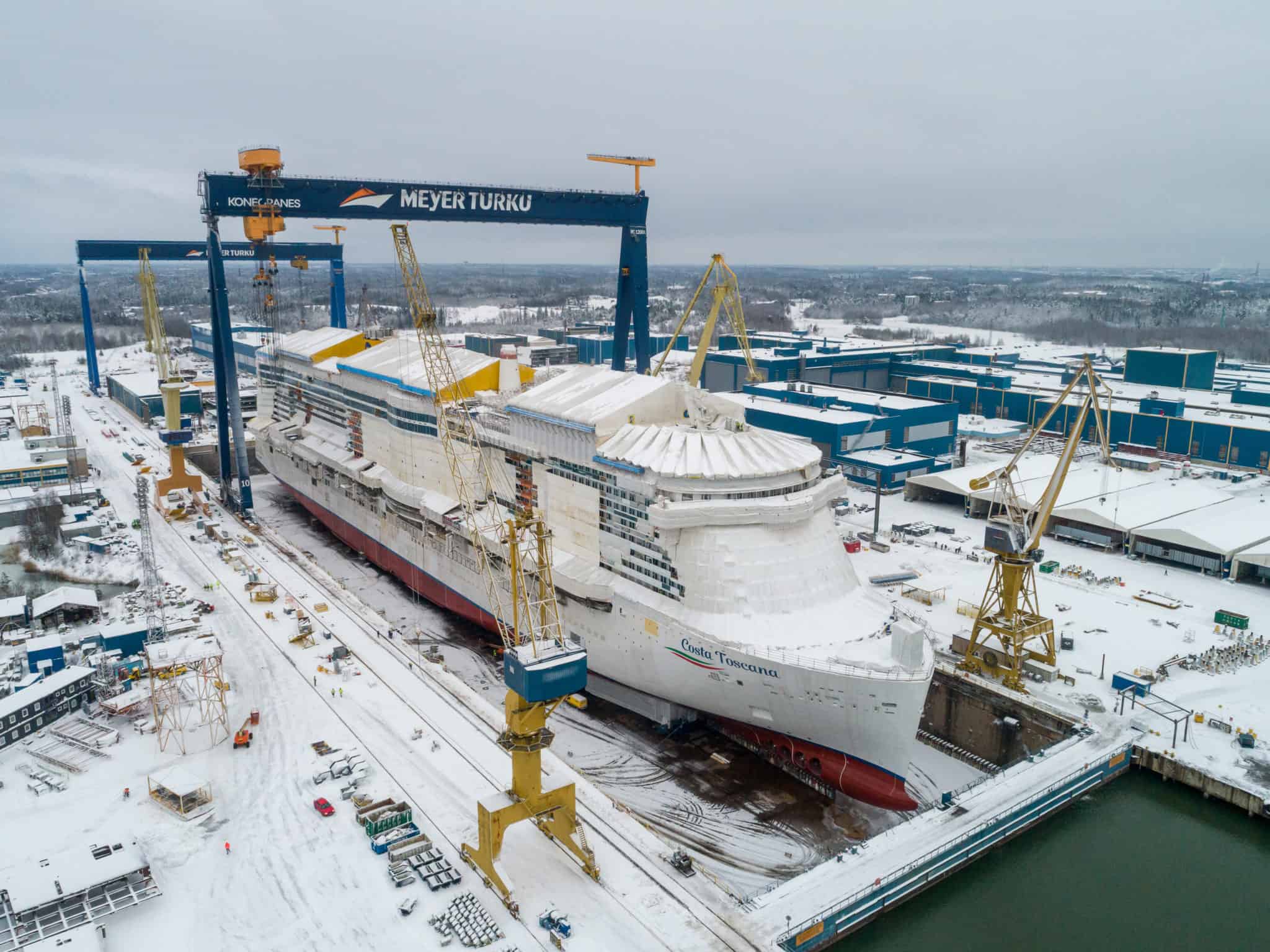 Costa Toscana has been designed to be a traveling "smart city," where sustainable solutions have been applied to reduce environmental impact. Onboard, special desalinization plants will process seawater directly to meet daily water supply requirements, and energy consumption will be reduced thanks to an intelligent energy efficiency system.
100 percent separate collection and recycling of materials such as plastic, paper, glass, and aluminum will be carried out onboard as well, as part of an integrated approach to support circular economy projects.
READ MORE: 15 New Cruise Ships Debuting in 2021
Onboard Experience
Costa's new flagship is a tribute to Tuscany, which inspired its name, decks, and public areas. All furnishings, lighting, fabrics, and accessories for the vessel have been made in Italy, whether they are standard produced there or were designed specifically for the ship.
Costa Toscana will feature 16 restaurants and areas dedicated to the "food experience," including a restaurant dedicated to families with children, and a venue where passengers can test their cooking skills under the guidance of Costa's chefs.
The ship will feature four swimming pools, including an indoor saltwater one, a new beach club, and a Tuscany-inspired spa.
Costa Toscana will debut in Brazil for the 2021-2022 winter season. Her inaugural New Year's Eve cruise will depart Santos on December 26, 2021 with a week-long itinerary visiting Salvador and Ilhéus.
From January 2 to April 10, 2022, the vessel will offer another 15 voyages with the same itinerary, embarking in Santos and Salvador. These 15 cruises include the Carnival and Easter departures, which will be Toscana's last cruise before the Brazil-Italy crossing that departs Santos on April 17, 2022.