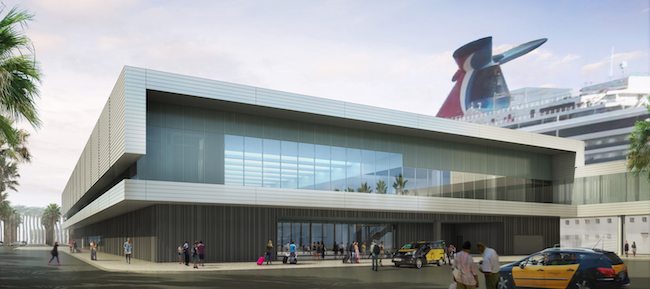 Carnival Corporation has released artist renderings of its second cruise terminal at the Port of Barcelona, which will be Europe's newest passenger cruise terminal when it opens in 2018.
As part of an agreement signed in 2015, Carnival will construct and operate the new 12,500 square meter terminal.  The company is investing over 30 million euros into the project, which paired with its existing terminal at the port represents its largest combined terminal investment in Europe.
Designed by Catalan architecture firm Battle I Roig, the plans for the upcoming project reflect today's modern architectural style with straight lines and a minimalist concept that will create a comfortable and contemporary environment.  It's designed to accommodate Carnival Corp.'s new class of "green" cruise ships that will be fully operated by Liquefied Natural Gas, the world's cleanest burning fossil fuel.
The new terminal will increase Carnival's passenger capacity at the port, which is used by 8 of the company's 10 cruise brands as both a destination and home port.  Carnival Corporation guests who visit Catalonia can take advantage of a variety of excursions, such as strolling the Girona historic quarter or visiting the multi-peaked rocky range of Montserrat and its Benedictine abbey, as well as exploring attractions within Barcelona.
Construction officially began in July 2016, and in April 2018 the terminal will host inaugural sailings of Carnival Horizon – Carnival Cruise Line's newest ship, as well as AIDA Cruises' newest vessel AIDAperla.  AIDAperla is one of the world's first cruise ships to feature dual-fuel engines, which can be operated with virtually zero-emission liquefied natural gas.
Carnival Corporation operates five additional ports around the world: Amber Cove in the Dominican Republic, Puerta Maya in Cozumel, Mexico; Grand Turk Cruise Center in Turks and Caicos Islands; Mahogany Bay in Roatan, Honduras; and Long Beach in California.  They also operate two private islands in the Caribbean: Princess Cays and Half Moon Cay.
Renderings: Carnival Corporation