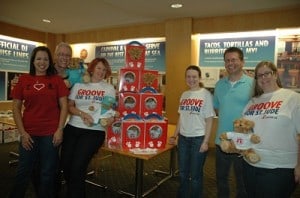 Props to the employees at Carnival Cruise Lines' corporate office in Miami, Florida for raising $2,300 for St. Jude Children's Hospital through the "Beary Cuddly Workshop," held on-site.
Employees had the opportunity to purchase a customized bear fit with doctor scrubs, surgical mask and lab coat. More than 100 bears were purchased to show support for St. Jude.
The bear sale mirrors programs taking place on-board Carnival's 23-ships to raise money to fight against pediatric cancer and other catastrophic diseases.
Carnival has a goal of raising $3-million dollars over a three-year period with "The Groove for St. Jude," a dance party each sailing and the on-board sale of "The Dream of Plucker of Perrysport," children's book.
Subscribe to our Cruise News Updates.