Want to order flowers or perhaps a birthday cake for someone who is sailing on a Carnival Cruise Line ship? Expect to pay a little more than you might have a few weeks ago. The line quietly has added a 15 percent delivery fee to any items that are purchased from their Fun Shops before you cruise.
Details On The New Charge
According to a note on the page where Carnival guests can order gifts, "Fun Shops purchases are subject to a 15 percent delivery fee." It does not, however, apply to all purchases, or even some of the most popular things passengers would want to buy in advance from the Fun Shops. Items which will not be charged the fee include the drink packages — both Cheers! and Bottomless Bubbles — Cruise Cash, water and internet packages. (These exceptions make sense as, except for water, none require an actual in-person delivery.)
The delivery fee also will not apply to any liquor packages purchased on board which you intend to carry home at the end of the sailing.
The charge will be added when, after having made your Fun Shops selections, you make the actual purchase. Below is a screenshot that was taken from the Fun Shops check out on Carnival.com for a six-pack of Coca-Cola.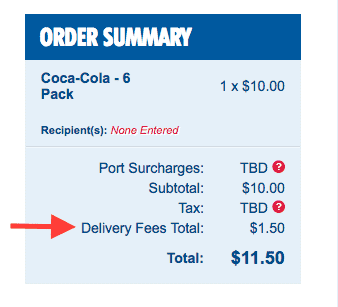 Other Important Fun Shops Facts
If you're looking to have flowers delivered to someone's stateroom, the order will need to be placed at least two days before their sailing. And if you don't know the guest's reservation number (and don't want to ruin the surprise by asking them!), Carnival's "Booking Buddy" can usually help locate the booking information so that your gift is delivered to the right stateroom. While gift cards can be used to make Fun Shops purchases, they aren't actually sold through the site. And if you place an order in advance, it can't be changed or canceled once the ship has set sail.