As all of the cruise lines try to find ways to help keep their guests connected while at sea, Carnival Cruise Line is giving passengers the opportunity to save money by pre-purchasing their internet package. By heading to the Manage My Booking tab on Carnival.com, guests can pick the package that works best for them and pay a cheaper rate.
Buy early and save
How much you pay — and how much you save — will depend on which of the three available packages you purchase. We recently looked at pricing for an upcoming sailing on the Carnival Breeze and noted the following prepaid rates.
$4 per day for Social ($5 per day onboard)
$10.25 per day for Value ($16 per day onboard)
$14.88 per day for Premium ($25 per day onboard)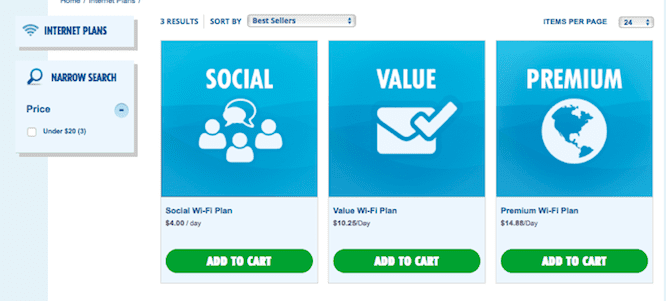 The difference between the internet packages:
Social  – Offers access to sites such as Facebook, Twitter, Instagram, Pinterest, Linkedin, Facebook Messenger, WhatsApp, SnapChat and popular airline websites.
Value – Provides access to a wide variety of sites and apps, including social media, e-mail, news, sports, weather, banking and more.
Premium – Promises the fastest possible connection and includes access to all websites and apps, including some streaming video services.
Note: The Carnival Hub app does not require a purchase of an internet plan.
When you prepay for your internet, you must do it for the entire voyage. It should also be noted that only one device can be logged on at a time per plan.
Prepaid internet packages are available on all Carnival Cruise Line ships with the exception of Australia-based Carnival Spirit.
Additional details can be found at Carnival.com.