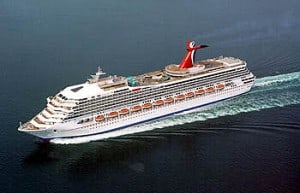 To kick off having two year-round Carnival ships in New Orleans, Carnival Cruise Lines held a special ceremony on Monday aboard the Carnival Elation in New Orleans. During the ceremony Carnival made a $25,000 donation to Reconcile New Orleans, a group the prepares adolescents for health related careers.
With the 2,052-passenger Carnival Elation and 2,974-passenger Carnival Conquest, the city is now seeing pre-Katrina passenger numbers.
"Carnival is New Orleans' number one cruise line and we are thrilled to now have two ships dedicated year-round to what is one of America's truly great cities," said Gerry Cahill, Carnival's president and CEO. "Carnival Cruise Lines strives to be a good citizen in our homeport communities, and this donation to Reconcile New Orleans is a reflection of our commitment to continue supporting the revitalization of this city."
Carnival Conquest will offer three different week-long Caribbean itineraries from New Orleans. A new western Caribbean program features calls at Montego Bay, Jamaica; Grand Cayman, Cayman Islands, and Cozumel, Mexico, while an eastern Caribbean itinerary sails to Key West, Fla., and Freeport and Nassau, Bahamas. The third week-long option includes calls at Belize; Mahogany Bay, Roatan; and Cozumel.
Carnival Elation offers four-day cruises departing Thursdays and calling in Cozumel, while five-day voyages departing Mondays and Saturdays visit Cozumel and Progreso, Mexico.
Carnival alone is expected to carry over 340,000-passengers annually through New Orleans.
Source: Carnival