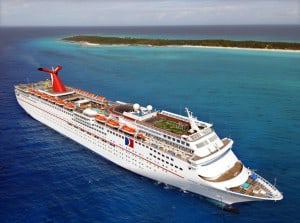 Carnival Cruise Lines announced today that they will further expand their presence in Long Beach into 2014 with year-round three and four-night sailings on the 2,052-passenger Carnival Imagination.  Carnival Imagination will leave Miami and offer three day cruises out of Long Beach to Ensenada, Mexico and four-night cruises to Catalina Island and Ensenada.
Carnival Inspiration will remain in Long Beach with three and four day cruises.
"Carnival's West Coast cruises are exceptionally convenient and popular, particularly for guests from California and other areas within easy driving range of Long Beach," said Gerry Cahill, president and CEO of Carnival Cruise Lines.
Carnival Ecstasy will reposition from Port Canaveral to Miami and take over the Carnival Imagination's itinerary in January 2014, offering Key West, Cozumel and Nassau.
Carnival Imagination will offer a 16-day Panama Canal cruise departing Miami January 10, 2014, before arriving Long Beach January 26, 2014.   Besides the Panama Canal, ports of call on this voyage include Grand Cayman, Montego Bay, Cartagena, Punta Arenas, Puerto Vallarta and Cabo San Lucas.
Together, these ships will carry approximately 550,000 guests annually from Long Beach.
Subscribe to our Cruise News Updates.