After weeks of rumors about exactly what Carnival Cruise Line had in store for the Elation during its drydock,  they this morning revealed details. The massive renovation — which saw several passenger-favorite establishments added — took place at the Grand Bahamas Shipyard in Freeport, Bahamas also found the line adding 38 new staterooms, converting nearly 100 cabins into balcony accommodations and much more!
Details About The Carnival Cruise Makeover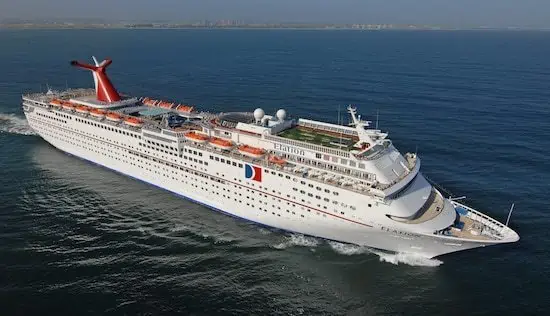 Thanks to the drydock, passengers aboard the Carnival Elation will now get to experience some of the  popular venues that the line has introduced over the past few years, including Guy's Burger Joint. First introduced aboard the Carnival Liberty back in 2011, the brainchild of Food Network star Guy Fieri quickly became a guilty pleasure for many a passenger thanks to the tasty burgers and killer fries, not to mention an amazing toppings bar.
A pair of Igunanas can now be found beside the pool of the Carnival Elation thanks to the addition of the BlueIguana Cantina and the BlueIguana Tequila Bar. The Cantina is a complimentary venue serving up tacos and burritos on freshly-made tortillas as well as all the fixings. And, well you can probably guess what they serve at the Tequila Bar.
Not feeling the tequila, but want to stay by the pool? Head on over to RedFrog Rum Bar for a cocktail that'll put you in a Caribbean state of mind or a beer, including Carnival's famous ThirstyFrog Red.
Other Carnival Cruise Ship Changes Include…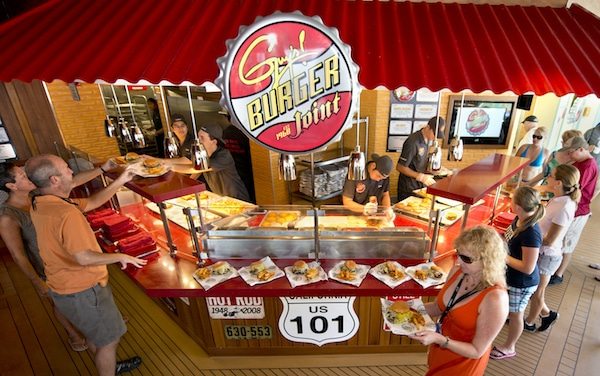 Lest you think that food and beverage options are the only changes that were made during the drydock, think again. One of the most striking renovations involves the staterooms themselves. While all of the cabins on board were freshened up and given a new look featuring bright colors inspired by the ship's tropical itineraries, balconies were added to 98 existing rooms. "Previously," reminds Scott Lara, a Jacksonville-based travel agent, "Elation didn't have balconies." And obviously, this addition will prove a great drawn for many potential cruisers.
The drydock also included, ironically, some major additions that are definitely water-themed. First is Camp Ocean, a marine-inspired play area for kids 2-11 that features over 200 ocean-themed activities that will keep the tots entertained, and maybe even teach them a thing or two. Then there's the massive WaterWorks area, featuring a 300-foot long water slide, a pair of racing slides and a splash zone designed just for younger passengers.
Last but not least, the 9-hole miniature golf course was relocated to Deck 14… which means you can spend some time playing with the family while still taking in the fresh sea air and incredible views.
Elation runs four- and five-day cruises to the Bahamas, featuring stops at Freeport, Nassau as well as Half Moon and Princess Cays, better known as Carnival's private islands. In 2018, the ship will do a one-time, 8-night sailing to Bermuda and a one-time seven-night Eastern Caribbean sailing.