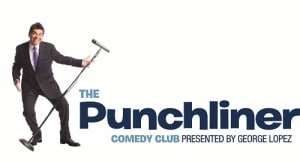 Carnival Miracle sailed into New York harbor today with some first-time 'Fun Ship 2.0′ enhancements: The Taste Bar, Punchliner Comedy Club presented by George Lopez, and Punchliner Comedy Brunch.
Details on enhancements:
The Taste Bar is Carnival's newest casual dining option and is expected to be rolled out fleetwide by summer 2013. Guests can enjoy appetizer dishes such as Roasted pork tacos, Nonna's meatballs, Grilled ham and provolone cheese melt on buttermilk brioche and cream of tomato soup, Fried sweet potatoes, and short ribs, all paired with a themed beverage ($5 for the beverage).  The location will vary by ship and held on sea days and select port days from 5pm to 8pm. Carnival Miracle will feature the location on the Promenade deck, taking the place of the sushi bar but, but sushi will still be featured on the ship. See menu here.
Punchliner Comedy Club will be Carnival's revamped comedy venue, inspired and consulted by comedian George Lopez. Lopez will serve as the cruise line's "curator of comedy," booking up-and-coming acts along with established talent. Guest can expect five 35-minute adult and family shows during their sailing.
Debuting on Carnival Miracle is the Punchliner Comedy Brunch that will take place on sea days in the ships main dining room. This complimentary dining event is paired with hourly performances by comedians and great food. Guests can enjoy dishes with a comedic twist, such as: Flamin' Tomatoes Soup and Caesar Salad; Headliners featuring Funny French Toast, Pappardelle Pasta, and Mac & Cheese available with applewood smoked bacon, chicken or steak; and Punchline, a decadent dessert menu with caramelized cheesecake, banana crème pie and others. A selection of breakfast dishes are also served. See menu here.
Carnival Cruise Lines launched 'Fun Ship 2.0' last fall, Carnival's $500-million ship enhancement program. You can view the 'Fun Ship 2.0' enhancement schedule here.
Source/Photo: Carnival Cruise Lines
Subscribe to our Cruise News Updates.