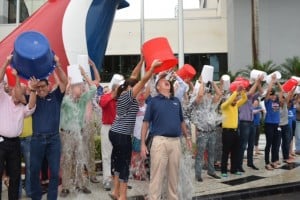 Leave it to Carnival Cruise Lines to take the #IceBucketChallenge to another level!
The world's most popular cruise line enlisted all 24 of its "Fun Ships," as well as President and CEO Gerry Cahill, to participate in the #IceBucketChallenge, designed to raise much-needed awareness and funds for amyotrophic lateral sclerosis (ALS), also known as Lou Gehrig's Disease.  Carnival is also making a $100,000 donation to the ALS Association.
The way the #IceBucketChallenge works is simple: participants are encouraged to pour a bucket of ice water over their head and then challenge others to do the same or make a donation to fight ALS within 24 hours.
Carnival's newest ship, Carnival Breeze, was the first ship to rise to the challenge with Cruise Director Matt Mitcham throwing down the gauntlet by dumping the entire contents of the 150-gallon PowerDrencher tipping bucket and then challenging the line's other 23 ships to take up the cause.
Team members from the 23 ships – which are sailing in regions spanning the Caribbean, Alaska, the West Coast and Australia – were up to the task, with shipboard personnel undergoing their own below-freezing drenching to support ALS research, treatment and education efforts.
The #IceBucketChallenge was then extended to Senior Cruise Director and Brand Ambassador John Heald who is sailing, appropriately enough, in the icy waters of Alaska on the Carnival Miracle.
Video:
Source/photo: Carnival