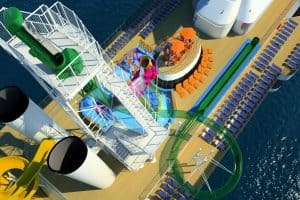 The 2,680-passenger Carnival Spirit will soon have an addition in what's being coined "the steepest and fastest waterslide at sea." The new water slide Green Thunder will have a trap-door with a breathtaking steep drop that'll carry riders through a green translucent tube, over the side of the ship, and into a splash zone (pictured right).
Carnival Spirit is being deployed to Sydney,Australia in October, after she finishes her 2012 Alaska cruise season with a brief stint in Hawaii.
The name was chosen in a contest that Carnival had on their Facebook page that had over 1,600 entries from the Australian market.
The new slide is expected to be installed during a dry-dock in 2012 but Carnival Spirit is not expected to receive the Fun Ship 2.0 enhancements.
Source: Carnival