On Monday, we got to head down to PortMiami to board Carnival Destiny, one last time – well, for now. You see, when Carnival Destiny left Miami on Monday evening, she headed on an 18-night transatlantic cruise to Italy. Once she disembarks her current passengers, she'll complete one of the largest overhauls in cruise ship history. For 49-days, workers at Fincantieri shipyard in Monfalcone, Italy, will slowly gut – deck by deck – the Carnival Destiny before its re-stuffed with some of the hottest new venues at sea.
Hear our Farewell Carnival Destiny show we taped onboard.
Our five-hour  trip started when we rented a car from Jacksonville, Florida and drove down to Miami after the Super Bowl. The prices for Miami hotels were outrageous, we're talking like $200 per night! I really wanted to wake up in Miami on Monday morning. Nancy Schretter, editor of Family Travel Network , turned me onto this site called BetterBidding.com last summer. The site basically reveals what Priceline or Hotwire hotels you'd get in an area, based on previous purchasers' feedback. I went with a four star in downtown Miami, bid $69 and got the Hyatt Regency Downtown. It was a nice hotel, valet was $34 and self-parking was $28. Internet was $9.99 per 24-hours. Great location though.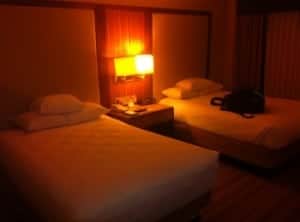 Getting to the ship was easy from the hotel, not even a ten-minute drive. We parked on the top of the parking garage over looking Carnival Destiny to do a couple of establishing shots before we went down to embarkation. The ship was at Terminal B today, not the normal terminal, but still very accessible.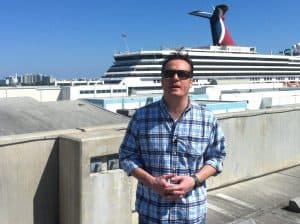 Boarding Carnival Destiny was exactly as I remembered it boarding in 1999 – very Vegas-like (surprising, I know). A fun fact I learned from journalist Peter Knego of Maritime Matters – the Carnival Destiny is the first ship that Fincantieri built for Carnival Cruise Lines (previously built a Holland America ship). Taking a picture of the construction plate was a must.
We made our way to every public area around the ship taking video footage of the areas that are going to be transformed during the dry dock. One of the areas that really stuck out to me – where the disco currently sits (deck 5, mid-aft). It's going to become the Ocean Plaza with an outdoor deck added and the RedFrog Pub will be built right behind it. If it's anything like the Carnival Breeze and Carnival Magic (the only concept I could compare it to in my mind), it's going to be really cool!
Venturing outside, we stood on Deck 11, where the Sports Square and  ropes course are going to be installed, and again, knowing how the other two ships looks, I could see it in my mind but still had a hard time wrapping my brain around the design and how they were actually going to do it.
Talk about total transformation and the Lido deck immediately comes to mind.  Standing there, looking at its current state, I was in complete awe knowing what was going to happen. If you've sailed on Carnival Liberty, Carnival Glory or Carnival Conquest with the Fun Ship 2.0 enhancements, you'll have a better visual of how it's gonna look. Where the big slide sits now – will be no more – when the new Serenity area is installed. It was hard even visualizing a three-story adults-only area with a waterfall.
There's lots more to come – we'll be releasing videos and articles as we get closer to the event. In case you missed the video, check  it out below.
Subscribe to our
Cruise News Updates
.
Related articles