Yes, yes, I was just on a cruise a few weeks ago. But the incredible prices on sailings out of Jacksonville made it almost impossible not to jump on the Carnival Elation for a five-night Bahamas cruise. You've probably heard rumors about $25 rates? Well, they're true… at least for qualified casino guests, who were able to book oceanview staterooms on this sailing for $25 plus port fees. Now, I don't tend to drop enough in the casino to qualify for offers, but I was still able to get a pretty sweet deal on this sailing.
With the Carnival Elation having just come out of drydock  — and having been lucky enough to see how her renovations for myself only a couple weeks ago — I was ready to get to know this ship all over again.
A Last Minute Scare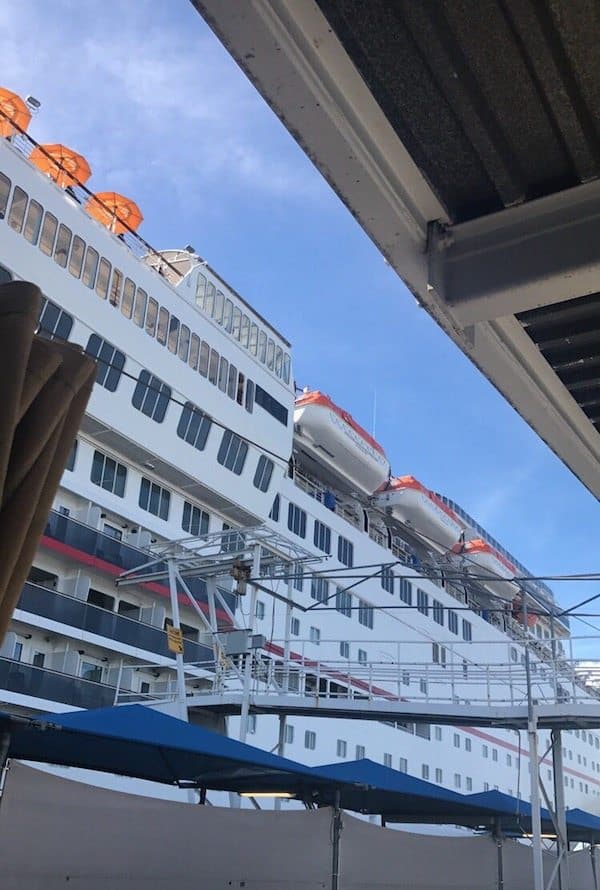 This morning, I got a quick scare when I went to print out my cruise documents: I kept getting a message saying that my booking was invalid! Obviously freaked, I called Carnival and found out that you can't print out a boarding pass on the day that you're set to sail. Usually, I have my boarding passes printed out at least a week in advance, but this was such a last-minute decision that, in the rush to get things done before setting sail, this step got lost in the shuffle. Lesson learned… and here's hoping that sharing my dumb mistake will help keep you from making it in the future!
I'm only about two miles from the port, and could easily have driven over. But why pay the Jacksonville Port Authority $17 a day to park when an Uber would run me around $8? (While many people opt to fork over the money to Port Authority for the sake of convenience, there's a park-and-cruise lot called The Parking Mall right across the street, and it'll only run you $10 a day.)
Rather than head over to the port early and deal with the rush of folks looking to board, I hung out at home until a little later. I got to the pier at 2 p.m. and was on board 20 minutes later. Couldn't have been simpler.
First Top: Guy's Burger Joint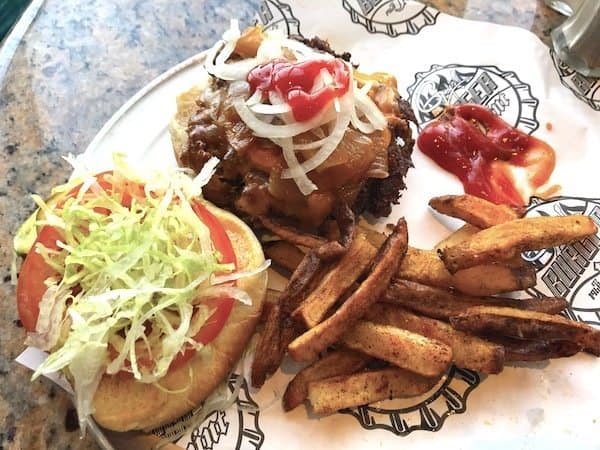 One of the reasons I put off going to the ship early was the knowledge that by doing so, I'd likely wind up heading to Guy's Burger Joint and immediately eating. That's not to say that it wasn't still the very first thing I did when I got on board ("One Plain Jane with fries, please!"), but at least I'd put it off a couple hours. With luck, I could avoid eating anything else until dinner.
Earlier in the day, I'd been talking to a friend about cruise food and dieting. We agreed that you can't let food dictate your vacation… and that works both ways. You don't want to use being on vacation as an excuse to eat everything in sight, but you also don't necessarily want to deprive yourself of treats that you wouldn't be able to get on dry land. Like they say, all things in moderation. Translation: I only had one burger instead of two.
The muster drill was fairly straightforward and lasted 20 minutes or so. While that seems to be the norm on most modern cruise ships, it was in stark contrast to what I'd experienced a few weeks earlier on the Carnival Fascination. On that ship, the muster drill began in the theater, and then we were led out onto the deck and to what would — in the case of an emergency — be our lifeboat. That one lasted nearly an hour. (Needless to say, I much preferred the Elation's version!)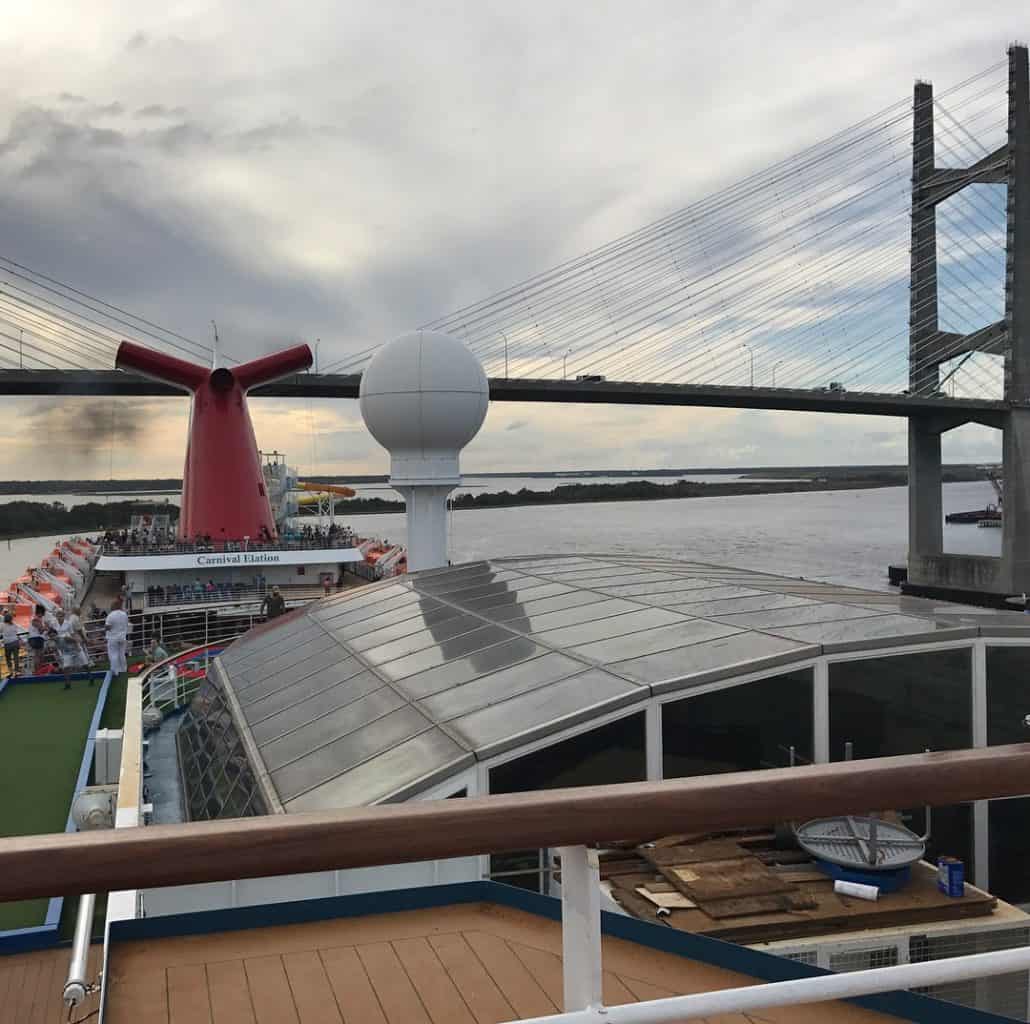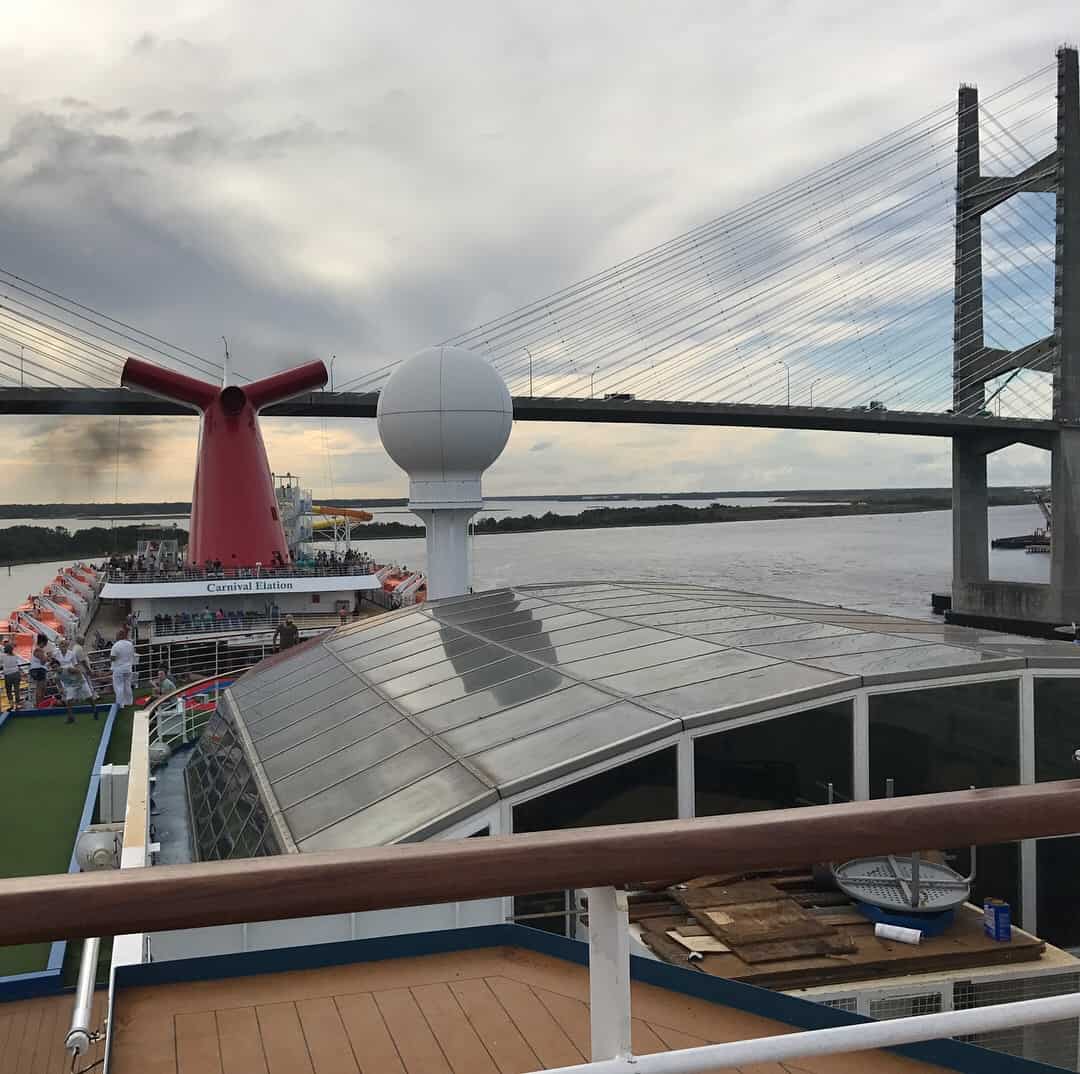 Sailaway out of Jacksonville is always cool,  because you get to go under the Dames Point Bridge. For those of you who don't know, there's not a whole lot of clearance between the bridge and the smokestack. Obviously, the folks on the bridge know exactly what they're doing, but when you're standing on the deck and looking up, it seems like a close call! (It's similar to when ships like the Norwegian Breakaway goes under the Verrazano Bridge as they leave New York City.)  It's an 11-mile trip from the Jacksonville pier to the sea buoy at the mouth of the St. John's River. It's also cool passing the Mayport Naval Station, where you see all the ships and the runway that starts on the edge of the river. Being an aviation geek, I always appreciate the view.
Because this was such a last-minute sailing for me, I didn't receive my cabin assignment until Friday afternoon. So perhaps not surprisingly, when I went down to my stateroom, there'd been a bit of a mix-up. I'm a platinum cruiser with Carnival, and the free gifts and perks associated with that were delivered to someone else's cabin, as were the two cases of water I'd purchased in advance. (I'm a big believer that you can never be hydrated enough when cruising!) I headed down to Guest Relations to get the situation taken care of without any difficulty. The person I dealt with was as nice as they were efficient. (Let's face it: We've all heard horror stories about dealing with guest relations… although I've had very few bad experiences. I tend to think what kind of experience you have at the Guest Services desk can depend a lot on your attitude. We've all seen — and maybe sometimes been — those people who come in hot, attitude blazing, and then are surprised when the person they expect to fix the situation is less than helpful.)
As a result of my last-minute booking, they also didn't have a table for me in the main dining room. But again, the situation was resolved quickly. And let me tell you, the Elation's newly-refurbished dining rooms are stunning. The aft dining room is done in more neutral colors, while the one located midship is done in variations of red and yet somehow manages to avoid being tacky. Meal-wise, I went with the cured salmon, sliced pork and some apple pie for dessert.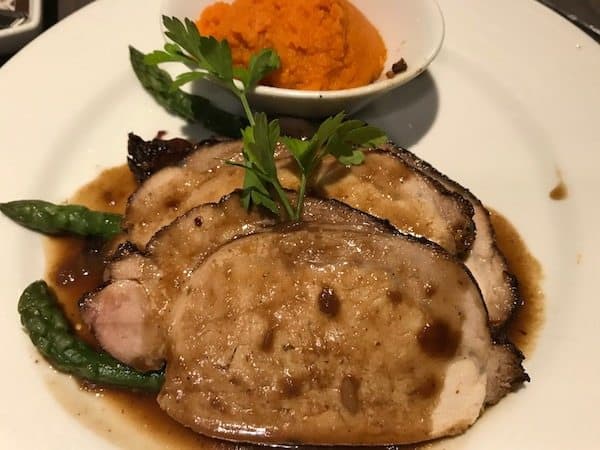 Party Time On The Carnival Elation
Truth be told, I'm not really a karaoke kinda guy. But I have to say that the place was a blast. There were some fantastic singers, and they belted out everything from country to rock to some good ol' classics. And the piano bar, always a good time on Carnival ships, was operating at full-tilt boogie. I'm going to guess that some of the passengers who were singing at the top of their lungs woke up in the morning with laryngitis (and took a minute to remember, "Oh, right, we were at the piano bar last night… " )
Apparently, I was determined to make the most of this cruise, because after closing down the piano bar, I hit the disco… only to beat a fairly hasty retreat after realizing that I was  just about the oldest person there. (I also found out, in telling a friend about the experience, that it's called a nightclub, not a disco, so there goes my credibility as a nightlife reporter.)
Tomorrow is a Fun Day at Sea as we steam toward Half Moon Cay. There are five foot seas right now, and you can definitely feel it. The running joke of the evening has been, "Is the ship rocking, or have I had too much to drink?" The only acceptable response: A little of both.
Goodnight.