For most people, when they book a cruise and look at the itinerary, there's a stop that they look forward to more than the others. On this particular sailing aboard the Carnival Elation, today was that day for me, because we were vising Carnival's private island, Half Moon Cay. So after heading down to the main dining room for a quick breakfast, I grabbed my backpack and headed down to the tenders so I could hit the island.
Instead, I hit a bit of a snag.
I wasn't really familiar with how the whole tendering process worked, so didn't realize that I needed to get a sticker and then wait for them to call my name. Fortunately, because I'm a platinum VIFP member, this was easily resolved. Like they say, membership has its privileges… and in this case, those include priority tendering! In fact, someone from guest services escorted me right down to the tender boat, which was pretty awesome. (FYI: People who purchase Faster To The Fun passes also get priority tendering.)
Carnival Elation At Half Moon Cay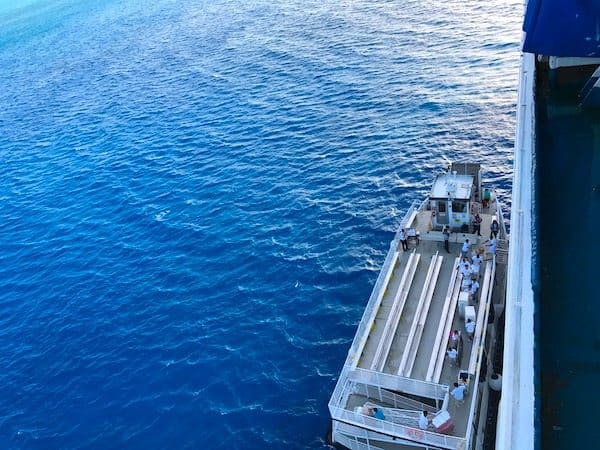 A reader who's been following the trip report asked me if there is cell phone service on Half Moon Cay. I can't speak for all cell carriers, but I have T-Mobile and was able to pick up BTC network just fine. It was 3G, but I had three or four bars on my iPhone at all times. It wasn't the fastest connection ever,  but if you're doing more than checking E-mail a couple times and sending a few texts, you're not vacationing right.
Earlier, I posted a pic of what I'm guessing is one of the most photographed things on the island: the sign that reads, "I Wish I Could Stay Here Forever." And man, truer words hve never been spoken… or in this case, painted onto a sign. The horseshoe-shaped beach of shining white sand — combined with water a shade of blue that you'd swear doesn't exist in nature if you didn't see it for yourself — makes this the kind of tropical paradise that dreams are made out of. The food was good, the drinks were cold, the sun was hot…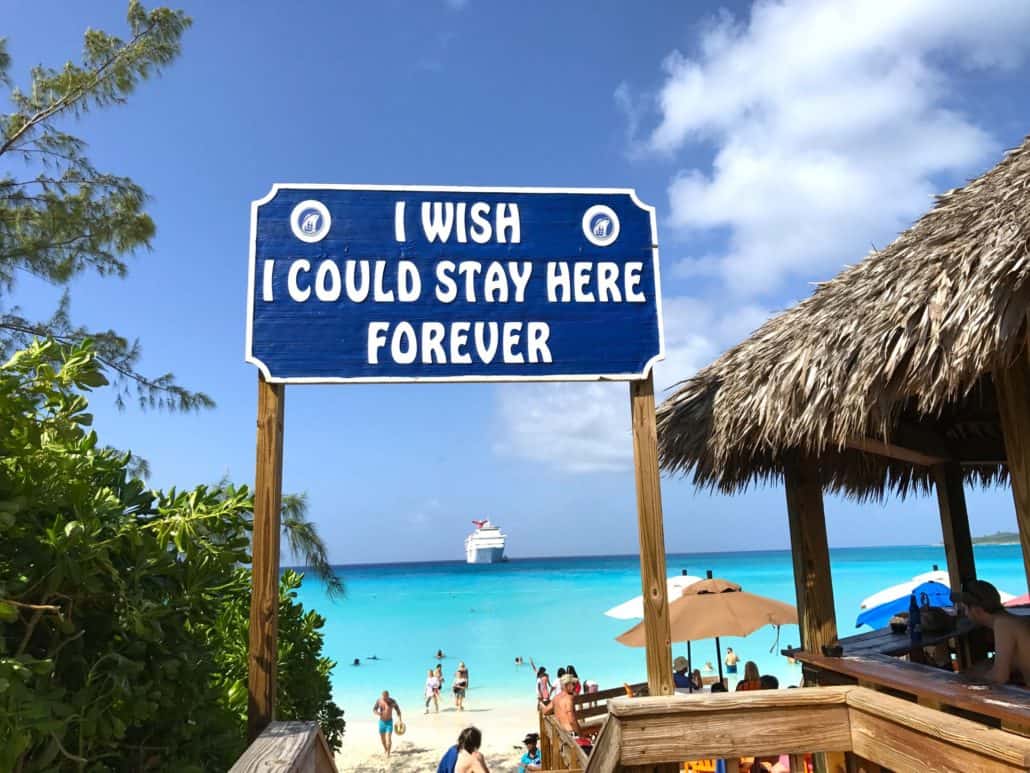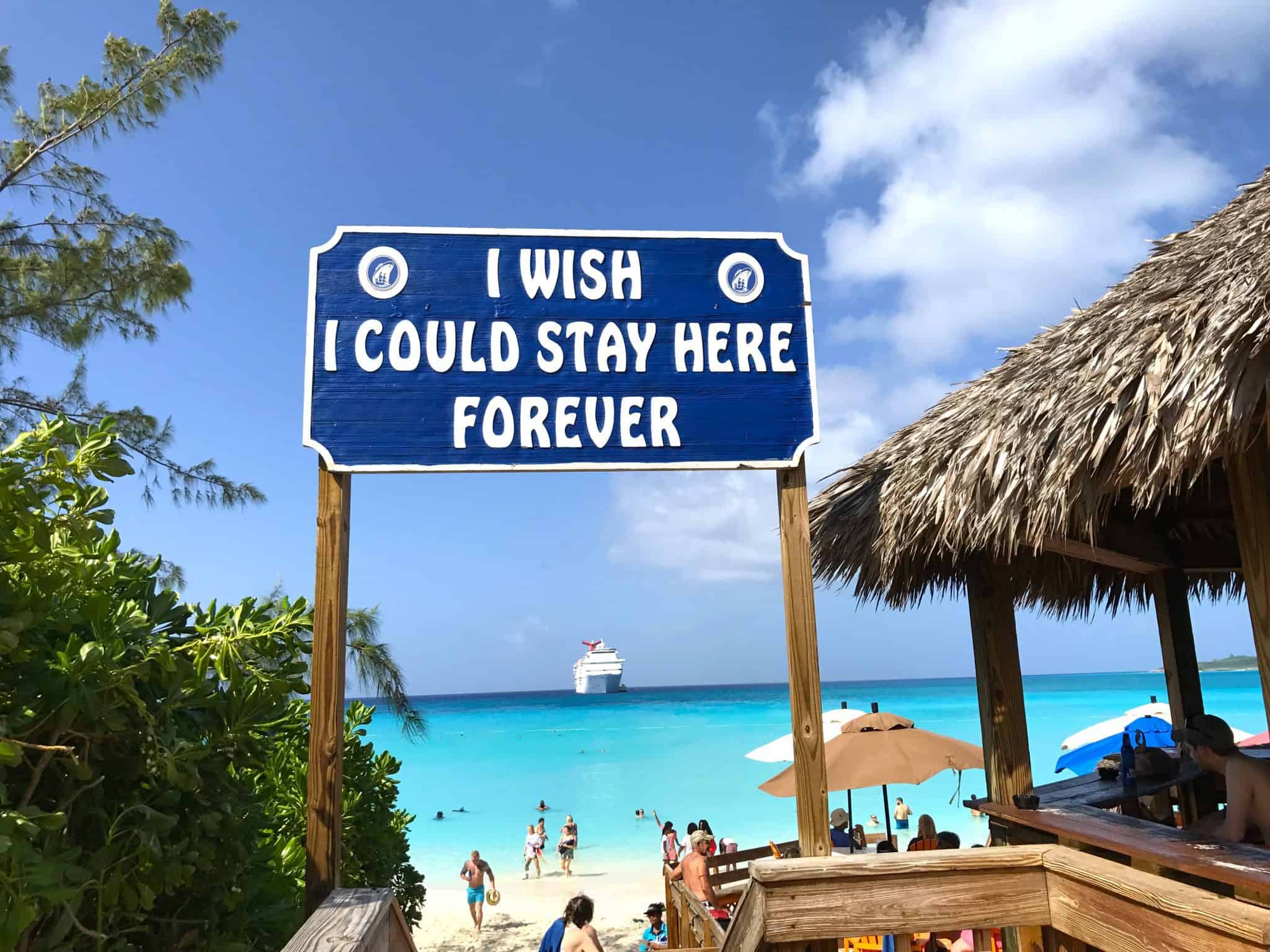 Half Moon Cay earlier was one of that sign tha says, "I Wish I Could Stay Here Forever." It's so true. The horseshoe shaped beach along with the white powder sand and blue water makes it the ideal place to go. The beach cookout was fun, the drinks were ice cold, and the sun was hot. Life really doesn't get much better.
The hardest thing about returning to the ships is the sense that you're leaving paradise. The process itself is actually pretty simple. You clear security when you leave the island, jump on the tender and, upon boarding the ship, scan your keycard. (This process can vary depending on the cruise line and even from ship-to-ship. For example, when the Norwegian Breakaway visits Great Stirrup Cay, guests pass through security and have their belongings scanned once they are back on the ship.)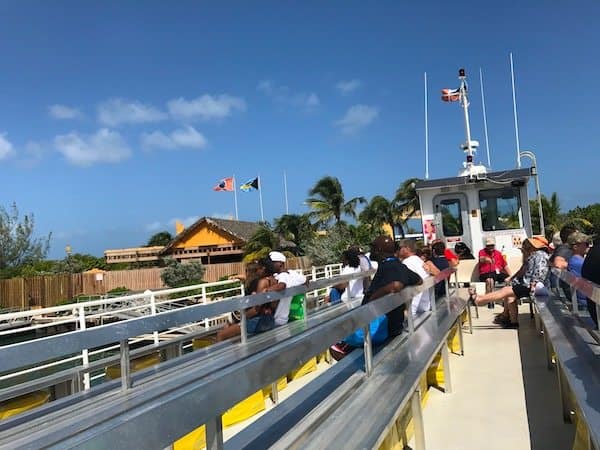 Despite having had a bite to eat on the island, I was still pretty famished. Hey, lounging around in the sun all day, a guy works up an appetite. Fortunately, the BlueIguana Cantina — which tends to close pretty early — was still open, and I was able to grab a small shrimp burrito before they shut down at 3:30. (Had I missed out, I could have hit Guy's Burger Joint, which will typically stay open until 6:00.)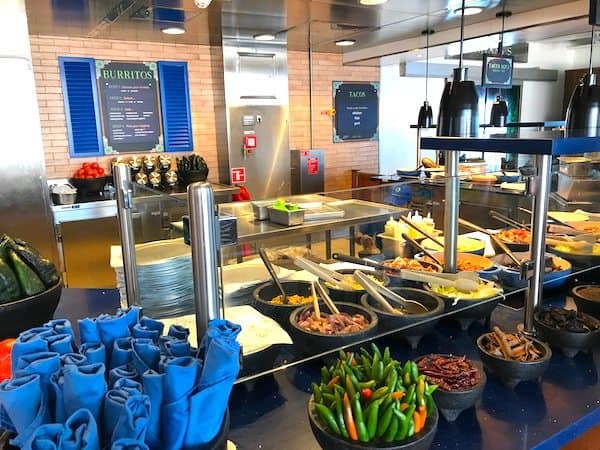 Wait, did that last paragraph imply that I didn't hit Guy's? Because, shrimp burrito in hand, I totally did. For those of you keeping score at home, and remembering my Day 1 vow to keep my eating under control during this cruise, that was only my second burger of the trip. I went with the Straight Up this time, sans bun. Because every little bit counts, especially when it comes to carbs.
Nightlife On The Carnival Elation
You may recall I had a pretty good — if really short — run in the casino yesterday, so I decided to swing through and invest $20 on a Wheel of Fortune machine, playing $5 spins. Lady Luck was once again on my side, and within a few minutes I was up to $680. She did not stick around, however, and I eventually lost everything. But hey, for $20 it was a heck of a fun ride. And given that I went up and down a fair amount while playing, it might just qualify me for one of those great casino rates we were talking about a few days ago. I'll let you know…
When dinner time rolled around, I headed for the main dining room where I ordered escargot, short ribs and Carnival's signature dessert, warm chocolate melting cake. You know how most people order the cake with a side of ice cream?  I went with a side of escargot. A little sweet with a little salty.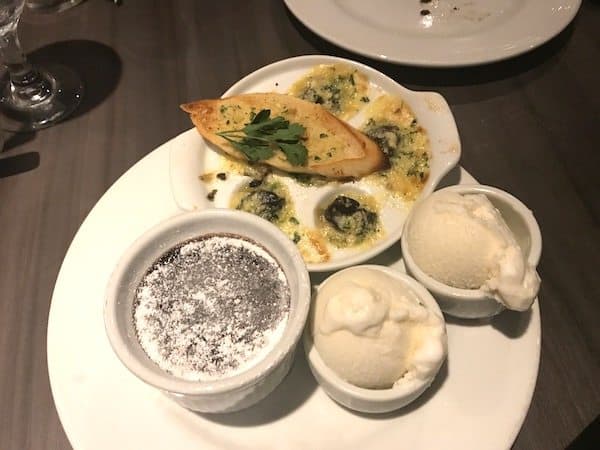 Something worth noticing: The Carnival Fun Hub app now includes the menus, meaning you don't have to trudge down to the main dining room to see what they're serving that night. You can just look on the app, see what's on the menu (literally) and then decide if you want to hit the main dining room or maybe book a specialty restaurant. Another feature I found really useful on the Fun Hub app was the ability to put a star next to events you want to make sure not to miss, and it will send you a notification when the time comes. That's pretty handy. One thing I could do without: The ability to see how much my folio is up to. Then again, I guess knowing in advance is better than being blindsided when that final bill is slipped under the door!
After dinner I met up with some of the ship's officers. It was nice to be able to put faces to some of the people whom I've interviewed on Cruise Radio but never had an opportunity to meet in person. With the Carnival Elation fresh out of a drydock during which it underwent a pretty major renovation, it was also cool to hear firsthand what was done to the ship and how the whole process works. The Hotel Director told me that the transformation Carnival Elation underwent was almost as big as the Carnival Sunshine refurbishment back in 2013.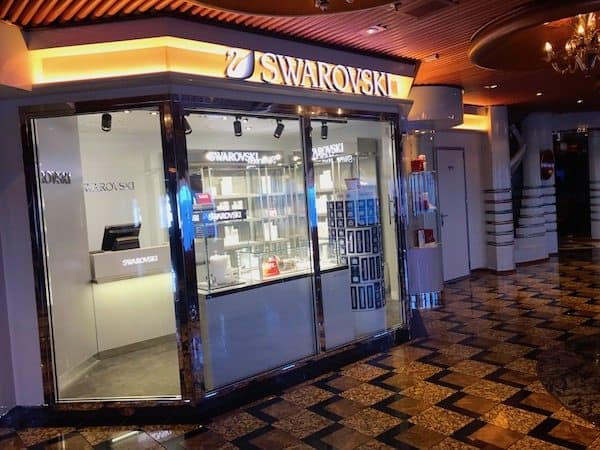 I wound up going back to the piano bar again tonight. I took a break from piano bars for about 10 years, but it would seem that on this trip, I rediscovered my love for them. Both of the nights I spent there were a blast, with a fun crowd and, of course, great person on the piano. Because let's face it, the person sitting there pounding away on the keys is the one who ultimately is going to make or break your night in any piano bar, just like a DJ is going to control the mood of the crowd in the disco. Sorry, nightclub.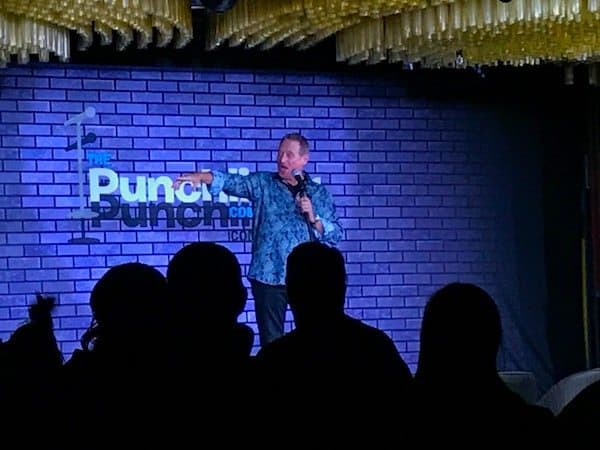 I usually wind up seeing at least one of the playlist production shows when I'm on a Carnival ship, but this time I didn't. I spent more time in other venues, and really appreciated the fact that Carnival tends to have a good variety of entertainment options taking place around the ship each night. You can sit in one place or bar hop until you find the place that has exactly the right vibe to match your current mood.
This will be my last day of the sea blog for this sailing, as I'm hopping a flight home tomorrow from Nassau. A quick 30-minute flight to Miami, followed by a 55-minute flight home to Jacksonville. This was a great sailing, and I'll be posting a photo gallery of all the great improvements made to the Carnival Elation during her renovation. As always, thanks for following along with me.
Goodnight