For many Carnival Cruise Line devotees, it's almost impossible to imagine hitting the high seas without first downloading the Carnival Hub app. And this week, it was announced that Hub will be available on the Carnival Fantasy beginning September 12th, and on the Carnival Miracle starting September 24th. This is in addition to the previously announced Carnival Victory, which gets the Hub treatment on September 1st, and Carnival Splendor, on which it will be available beginning September 10th.
What It Is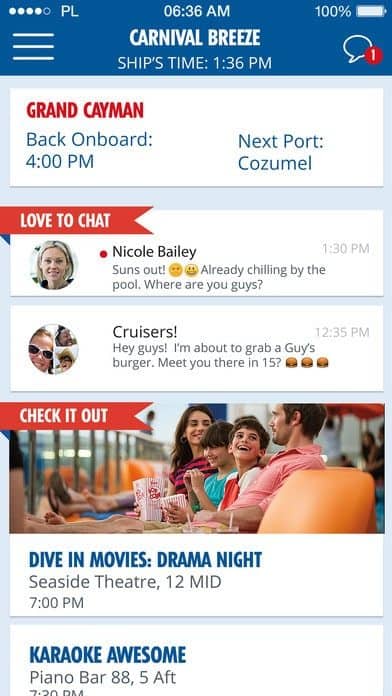 Even before passengers board, the app comes in handy, as it happens to include a great countdown clock that can be personalized! But once on board, the app allows guests who are on the same ship to communicate with one another, as long as everyone has downloaded Hub. It also allows you to access the schedule of ship-board events, meaning that if you left your Fun Times program in the room, no worries… just consult your phone!
You can also look through the list of upcoming events and "favorite" those you want to make sure not to miss, and then share that info with your traveling companions in case they want to join you. Not sure how to get from where you are to where you want to be? The app has searchable deck plans that will help make sure you show up to dinner on time! And if you're in port and have forgotten what time you need to be back on board – don't want to be one of those infamous pier runners! – the all-important info can be accessed. Last, but certainly not least, you can access your Sail & Sign card to see how much you've spent so far. (On second thought, maybe just let that be a surprise on the last day!)
Which Ships Have It
In addition to the ships listed above, the Carnival Hub app is also available on the following Carnival ships: Breeze, Sunshine, Freedom, Glory, Pride, Vista, Triumph, Paradise, Ecstasy, Imagination and Valor.
Download App