Carnival Cruise Lines decided to extend their contract with the port of Baltimore for five more years. The current contract expires at the end of the month but has been renewed for two more years with three one-year options to follow.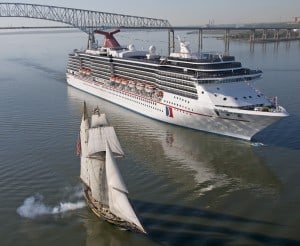 Currently the 2,124-passenger Carnival Pride sails year-round 7-night Caribbean sailings from the port.
"The decision by Carnival to make a commitment like this and to continue offering year-round cruises from Maryland further illustrates the growth of the Baltimore/Washington region as a strong cruise market," said Governor O'Malley.
Cruise expert Stewart Chiron recently said on Cruise Radio, "That's terrific news because the community there has really responded. It's not so much that you have the driving community but you have people that fly into Baltimore and take the train's west to east."
"Carnival's launch of Baltimore's first year-round cruise program in April 2009 has been a tremendous success and more than 115,000 guests annually are coming into Baltimore to sail on the Carnival Pride," said Gerry Cahill, Carnival's president and CEO.
Baltimore ranks sixth on the East Coast and 14th nationally for cruise passengers.
Photo Credit: Carnival-News