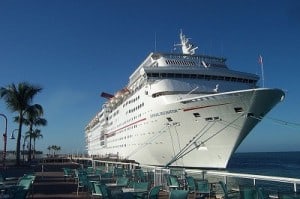 Good news for cruisers that sail out of Jacksonville, Florida. Carnival Cruise Lines signed another year contract extending into 2013 with the Jacksonville Port Authority. The new contract will bring over $2-million dollars to the local economy.
The future past 2013 is uncertain because of a planned cargo terminal where the current cruise port sits. Jacksonville would have to construct another cruise terminal.  The cargo terminal is behind schedule which is letting the city of Jacksonville buy time on building a new site.
Nancy Rubin, spokeswoman for JAXPORT stated, "For the time being, we're fine where we are. We are sending that ship out full every turn. Carnival is obviously happy and successful here. And we hope to continue that for a long time to come."
The current cruise terminal is only temporary.
The 2,056-guest Carnival Fascination sails year-round 4-and 5-night sailings out of Jacksonville to the Bahamas and Key West.
Subscribe to our Cruise News Updates.