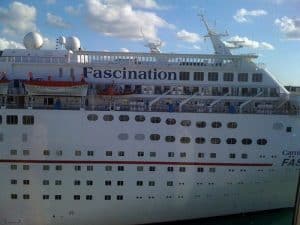 The 2,056 passenger Carnival Fascination is delayed into Jacksonville, Florida today because of rough weather. The Fascination was coming home from a 4-night Bahamas cruise from Nassau and Freeport, Bahamas.
Update 3:45 pm: A Carnival spokeswoman told us, "Carnival Fascination is expected to depart this evening at approximately 11:00p.m. on its next voyage — a five-day cruise with calls in Key West and Nassau.  The itinerary is not expected to be impacted by the delayed departure time."
Update 12:10 pm: A Carnival spokeswoman told us, "Due to adverse weather conditions and insufficient clearance under the Dames Point Bridge, Carnival Fascination is currently docked at Jacksonville Cargo Pier. At this time the ship is scheduled to dock at the Jacksonville Cruise Terminal at approximately 12:30 p.m."
Nancy Rubin with the Jaxport told us in a statement. "The arrival of the Carnival Fascination and the vessel's next departure scheduled for late this afternoon will be delayed several hours due to high seas." The nor'easter off the coast of Florida has affected ports along Florida's coast. Jacksonville remains under a coastal flood advisory.
Passengers scheduled to depart on today's sailing should plan to arrive at the JAXPORT cruise terminal between 3-7 p.m. today although they should continue to closely monitor the situation.
Passengers departing can contact Carnival customer service at 1-800-Carnival, monitor Carnival.com.
Photo credit: Jemingway/flickr