Nelson recently came home from a 7-night Caribbean cruise aboard Carnival Freedom out of Galveston, Texas.  This is his full review.
Pre-Cruise Thoughts:
Initially my wife and I had decided we were not going to do a cruise for our anniversary due to us already being booked for a cruise this upcoming December. After checking into several different options they were just more expensive than going on a cruise and didn't sound nearly as fun. We originally had decided to do the 5-day cruise on Carnival Valor but when we went to book it was totally full. We ended up landing on Carnival Freedom due to port at Key West, Florida; Freeport, Bahamas; and Nassau, Bahamas. We choose this cruise mainly due to the ports. I've always wanted to go to Key West as well as go more eastern as we've only done western Caribbean cruises.
Embarkation:
So we made the crazy (and not smart) decision to leave Saturday morning which is the same day as we were supposed to embark. We got up at 3 am (which is the normal time that I go into work) and left the house at 4 am. It took us exactly 8 hours and 3 minutes to drive from Tulsa, Oklahoma to Galveston. I think it was like 520 miles but was all major highways. We arrived at 12:03 pm but weren't scheduled to get on board until 1:30 – 2:00pm. We did a little sight-seeing around Galveston and then got to the port at 1:47. It took us exactly 20 minutes and 37 seconds from the time we arrived at the port until the time we stepped foot on the ship. Embarkation went extremely smoothly.
Stateroom:
We ended up getting a balcony room and were on the 10th deck on the starboard side. It's just a regular size room but for two people it was plenty of room as far as storage and the balcony. We did get our extension cord confiscated so that was unfortunate. There are only two outlets in the room and it's not convenient but we managed.
Food:
So here is where there is a little mix of bad and good. The first night of the cruise we chose to do the Sun King Steakhouse specialty restaurant. We've sailed the Freedom before and have done the steakhouse and it was a tremendous experience. This time not so much. To be quite frank it was terrible. The salad came out warm and the steak came out cold. The steaks weren't tender and were overcooked. I was really disappointed.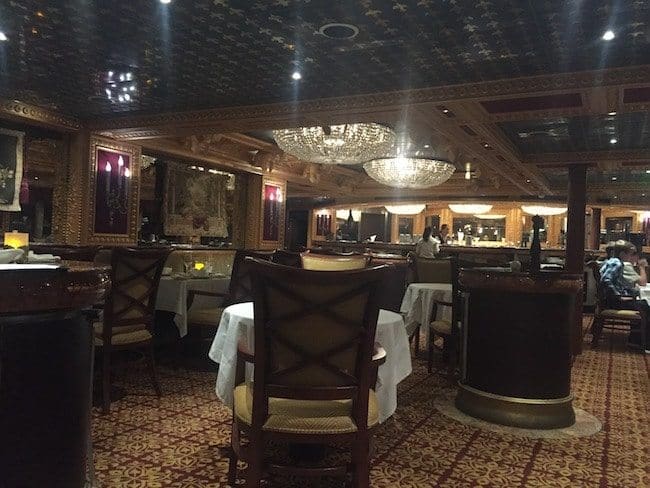 Now onto the good stuff. Guy's Burgers and BlueIguana Cantina were amazing as always. The dining room was by far the best food I've had on a cruise ever. I am not a big fan of the American Feast menu but on this cruise it was extremely good. Also, my wife and I were sat with a young couple celebrating their 1 year anniversary and we were celebrating our 13th. We really hit it off with this couple and we had a blast at dinner each night with them. Overall the food was a hit minus the one night.
Entertainment:
This is another mixed bag of good and bad. The main entertainment in the main theater was the Playlist Productions. I've seen most of these shows before and I could take them or leave them but this group of singers just weren't that good. So a little disappointing but they made up for it; there was a band onboard that is by far the best band I've ever heard at sea. I think they are called Run For Cover and they just added two singers to the band a month or so ago and they were amazing. The male singer in particular was incredible. As the week progressed they became more and more popular. By the end of the week they would have as many or more people listening to them as was in the main theatre. After the shows the singers and dancers and other staff would come and listen to this band. They were really good!
Ship Flow:
We had really, really rough start to the beginning of the cruise and they pretty much had everything shut down on Saturday evening and all day Sunday, so that kind of put a damper on the beginning of the cruise. We thought it was fixing to get better on Sunday afternoon but then the captain came on and said the next 12 hours would be even worse than we had been experiencing. So on Sunday everyone just seemed to be walking around trying to find things to do. We ended up having an extra sea day because they had to cancel the port stop at Key West. That was big bummer because that was the reason we booked but it didn't ruin anything for us. Once they decided to cancel, the ship slowed way down and the rest of the week was incredibly smooth. I never had to wait in line for anything the rest of the week. It wasn't extremely warm so the pools weren't really that crowded so there was a nice balance between people being inside and outside.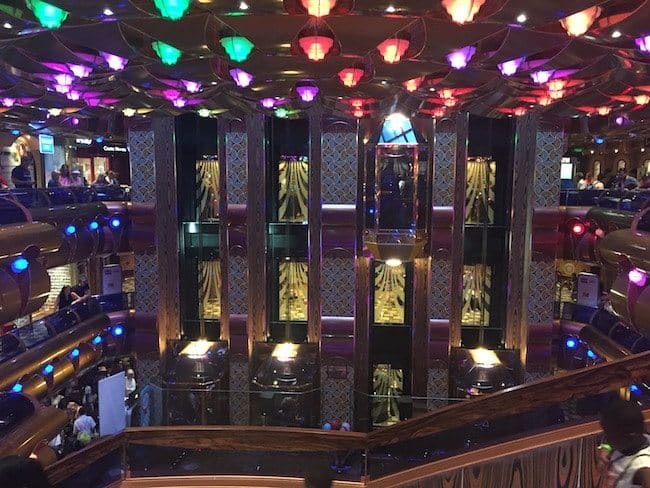 Port Stops:
Key West – Canceled
Freeport – We didn't do anything here as we had heard it was the Progreso of the eastern Caribbean. We just did a little shopping and hung out around the outside of the ship for a while.
Nassau – I fell in love with Nassau. I had heard it was nice but I was amazed at its beauty. We ended up doing a 2 ½ hour private tour that we paid $90 for just the two of us. She took us all around the island showing us the rich part and the poor parts. Then she took us over to Atlantis and let us hang out there for a while. We really enjoyed our time in Nassau.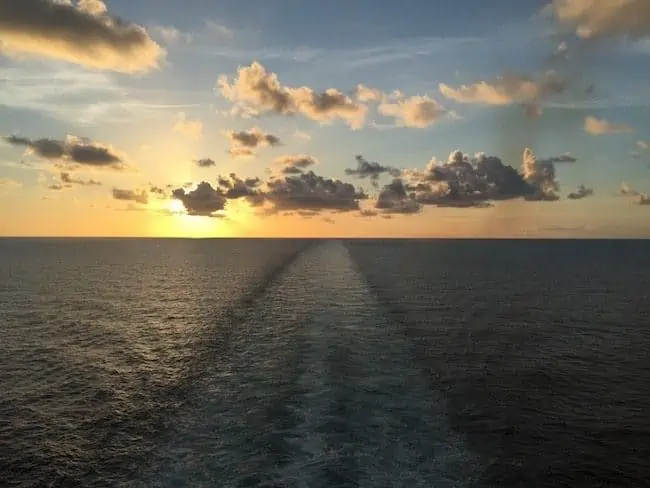 Debarkation:
To put it frankly debarkation was terrible. I had heard bad stories about Galveston and the horrors of their debarkation process. We've sailed out of Galveston 4 or 5 times and it's always been smooth. We decided to do self-assist because we were assured that this would be the quickest process. Well it wasn't! Our checked luggage got called way before our self-assist floor was called. When we were called it took over 45 minutes to get through the line. I think we ended up hanging out on one of the floors for over 2 hours before we were called. Of course, I was in a rush to get home because I had to be at practice at 7 pm so that probably added to the frustrations.
Although there were a couple of negative things, the overall experience was great! We had a really good time and you just have to overlook the negatives and focus on the positives to have a great cruise vacation.
Photos courtesy of Heather Baxter.