[smart_track_player url="https://traffic.libsyn.com/cruiseradioshow/CR_FREEDOM_2_19_15_AU.mp3″ title="Carnival Freedom in Galveston, Texas" artist="Cruise Radio" ]
In 2014 Carnival Freedom underwent a $70-million renovation that overhauled a lot of the ships existing public spaces. Dining venues, bars, entertainment options and new kid's programs were all part of this renovation.  Fast forward to February 2015, that same ship, Carnival Freedom, was repositioned to Galveston, Texas, giving Carnival Cruise Line over 600,000 annual passengers from Galveston.
To welcome Carnival Freedom to Galveston on Valentine's Day, Carnival teamed up with Operation Homefront, a nonprofit organization that supports military families. During the event aboard the ship Carnival gave over 1,000 military members a free concert by country superstar Martina McBride, dinner and a full evening of entertainment onboard the ship.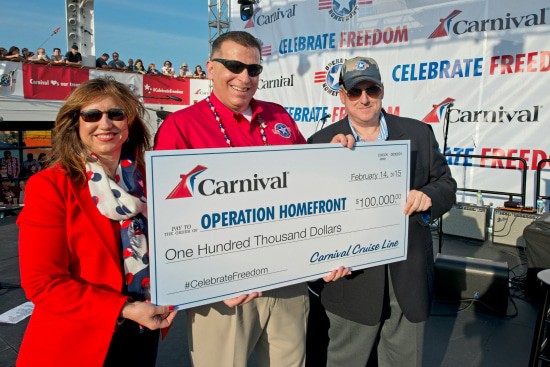 Event
Before the Martina McBride concert, Carnival Cruise Line presented Operation Homefront with a $100,000 to help military families throughout the country.
This was also the first ever CarnivalLIVE concert held outdoors and the weather couldn't have cooperated more if we wanted it to. It was sunny and 75F during show time. A nice break considering most of the country is under a blanket of snow.
Concert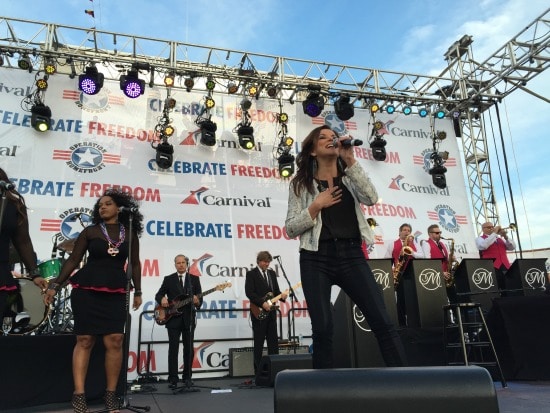 It was a cool setup for Martina McBride's show because the stage was built over the lido deck pool. The way Carnival Freedom is laid out, it reminded me of a mini amphitheater with six different levels to stand. There wasn't a bad seat in the house.  The stage and banners made it evident that this was a military event with 360 degrees of Celebrate Freedom. Martina performed for 90-minutes and wrapped her show with her signature song Independence Day.
Final Thoughts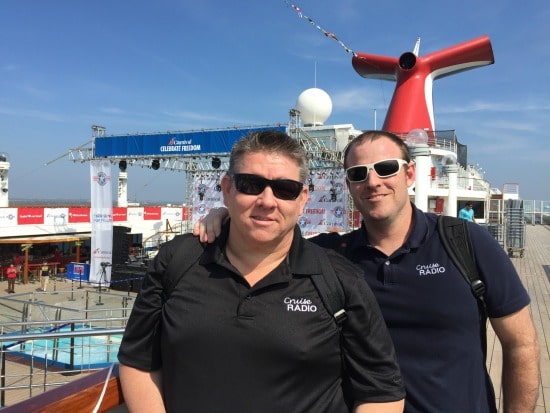 I'm a huge fan of CarnivalLIVE and mixing a country artist with the arrival of Carnival Freedom into Galveston was a perfect combo. Texas folks love their country music and the concert was awesome. The Galveston vibe alone makes me want to return.
Hear our Broadcast
[smart_track_player url="https://traffic.libsyn.com/cruiseradioshow/CR_FREEDOM_2_19_15_AU.mp3″ title="Carnival Freedom in Galveston, Texas" artist="Cruise Radio" ]