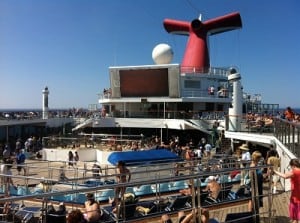 Today is a signature Fun Day at Sea, or a day to sleep in. After the piano bar and the late night comedy show last night I was comatose until 9am. I went and had breakfast in the Lido buffet, they had the standard hot breakfast food and cereals, I was happy enough. Since I just woke up and didn't feel like being around a lot of people I went and ate my breakfast next to the fish and chips station on deck 10, aft, no one was up there.
After breakfast, the shore talk happened in the theater with cruise director Josh. He gave a talk about the ports and what there's to do in Saint John and Halifax. By the end of the shore talk I was excited to get to Saint John. Having always thought Canada was an old person port, I really didn't know much about it, but I learned a lot. Halifax seems cool too, can't wait for both of them.
The weather on these Canada New England cruises can get chilly. If you don't bring a sweatshirt you may be wishing you did or you might be making a trip to the store in the port or the logo shop on board. During the day time it's okay but when the sun starts to set, it gets chilly.  It's funny because people in the hallways are saying how freezing it is – and it's July. Crazy!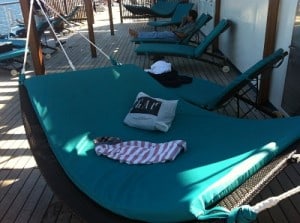 This ship has a Murder Mystery program on it and it kicked off earlier today. Apparently it started on this ship a few months ago and is starting to make its way fleetwide. Long story short, they have a murder and four suspects, most being from the entertainment staff. You have to decode cryptograms on the back of your Fun Times and solve the crime. It runs through the entire voyage. I got a piece of paper to play but then realized I couldn't get into it.
Lunch was pizza and a burger from the outside venue on the lido deck—I can't WAIT until this ship gets Guy's Burger Joint and Blue Iguana Cantina. I feel spoiled now because the last ships I've sailed on have had them.
I finally found my piece of Serenity this afternoon when I took up residence in a hammock for three hours before dinner. It was so relaxing just laying up there listening to music. If you've never been to one of Carnival's Serenity areas, it's an adults-only section that lets you escape the loudness of the Lido deck. They also have a couple of adults-only hot tubs, loungers, shells, and bar up there, located deck 12, forward. Chair hogs come in every ship and size – they are everywhere, every ship, all over the world. They aren't just limited to pool decks though, this morning when I went into the theater someone told me the row was reserved for all her friends, I told her when her friends came, that I would move. Well her friends never game.
Before dinner I stopped by the Burgundy Bar on deck 5, aft, to try their Martini Madness type thing. It's basically a sampling of four martini's for $17. The watermelon was my favorite, the others were very strong. I've never been a martini person though. I just always like to try something I've never done before when I cruise, and that was one of them. They also had a large selection of wines there. The Burgandy Bar is going to turn into the Alchemy Bar once this ship goes in for the Fun Ship upgrades this fall.
Dinner was formal night and I got an email asking me to gauge the crowd for the night. I'd say maybe 10% percent had on a tux or suit, the others had a polo or tie on. I just rocked a tie, no sports coat.
The show event was called Livin' In America. It was a tribute to songs dealing with America and had songs like Georgia and Philadelphia Freedom. The singers and dancers were impressive but I'm glad this ship is getting Playlist Productions, the new shows are much better and don't have the hokey cruise ship feel.
Since the same comedian was playing tonight as last night, I bailed on him and went to the new performer. This new comedian was a situational comedian and was a riot. He was screwing with people in the crowds and just taking anything he could think of and running with it. His name was Jim McCue from New England and a job very well done. I can appreciate when a comedian doesn't have to drop F bombs all the time. The guy last night was, eh, just okay. I had a chuckle or two.
They were playing movies under the stars tonight. I didn't know that you could get blankets for the movies under the stars but you could. You definitely needed one tonight. They were playing The Wedding Planner.
I have a laundry facility on my deck (deck six) and it takes coins, not sail and sign cards like Carnival Breeze. One thing I did appreciate is no one being in there when I went to iron my clothes for formal night.
I had a VIP party thing on my bed tonight so tomorrow in the Ebony Lounge between 4:30-5:15 they have a cocktail reception for the Gold, Platinum and Diamond members. The logo item that they gave us on this cruise was a pair of Carnival binoculars and they came in hand when whales were swimming around the ship earlier today.
Tomorrow morning we arrive Saint John, New Brunswick at 8 am. They are an hour ahead but we are told to stay on ships time. I'm supposed to zip line over the reverse rapids. Always fun.
Be sure you're following our cruise on Twitter, Facebook, YouTube, Pinterest, Cruise Radio Live app, and our SeaBlog.
Subscribe to our Cruise News Updates.