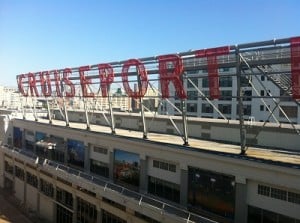 We woke up this morning and the ship was docked. Around 7 am they started letting self-assist folks get off the ship and then at 7:45 they started the folks in the zones that checked luggage. I realized that I didn't pack everything last night so I wound up stuffing a bunch of stuff in my video box and backpack.
As I mentioned yesterday, I checked my luggage and this was my first time doing so in a long time. I wanted to see just how prompt the terminal was because it gets rave reviews from cruise passengers.
Disembarkation is down to a science at the Black Falcon Cruise Terminal. It was like clockwork. I don't think I've ever seen a disembarkation more streamlined, even with Allure of the Seas at Terminal 18 in Port Everglades.
From when they called our zone to walking into the taxi cue, it was under 10-minutes, I was impressed. Turns out at this terminal you don't have to go through a customs station, rather just give your declaration form to an agent and go straight to your bags.
I learned a lot of things about the Canada/New England itinerary. There's this misconception that only old people go to Canada and that's totally wrong. Carnival Glory is a great family ship too, the 851 kids on-board proved that. For most of the cruise you wouldn't be able to tell that 30% of the guests were under 18 (only by the ice cream machines).
The food was good, entertainment was great, ports rocked — all-in-all, a good time.
You can catch our past SeaBlogs from Carnival Glory here.
Subscribe to our Cruise News Updates.
Related articles