When I say I screwed up this morning, that's the understatement of the year. My day started at 4am when I woke up to zip my bags up and transfer them to my truck. We left the house at 4:30, and got to the airport at 5am, for a 6:30 departure. As I was stepping out of my truck I realized I didn't have my passport!  My passport is needed to get on the cruise tomorrow (you can also use your birth certificate but I stopped that when I got my passport). My roommate told me he'd run to the house, get it out of my drawer and bring it back up. In the meantime I was trying to figure out a fail-safe way to make it to Boston (just in case), so I walked up to the US Airways counter and explained my situation. The ticket agent was very nice and told me that she would put me on the 7:30 flight through Washington DC, no change fee or anything. So far I've never been screwed by US Air or United (although this would have been my fault).
My roommate got to the airport at 6:05, I made it through security, of course I was picked for random screening by a rude TSA agent, cleared at 6:15, and finally I made it to my gate. If this was any other airport besides Jacksonville, I wouldn't have made my flight. I've caught early morning flights out of Atlanta, Newark, Boston, Minneapolis, Miami and Orlando, forget about it.
On the flight up I made this pre-cruise checklist so this wouldn't happen again!
My layover was in the Philadelphia, flying in was pretty cool as we made our way over where the Eagles play. The airport has over 100 shops and dining venues, I was impressed. Our airports in Florida are weak. AT&T offers free wifi in the airport so that made the layover easy. From the time I got off the plane and to the other terminal I only had about 15-minutes before boarding began.  It was a nice flight up the east coast and was able to spot out some landmarks before landing in BOS.
After I picked up my bags, I headed to the T (metro station) and headed to the hotel. It was $2 (they said) and I had to transfer once. You start at the Silver Line and then transfer to the Red Line, exiting at Downtown Crossing. I was a little nervous getting on the subway with all my video, audio and luggage but I was just being paranoid. It was a pretty smooth operation. For some reason I didn't wind up paying, either I just blasted through the toll or it could be free for folks coming from the airport – either way, I didn't pay.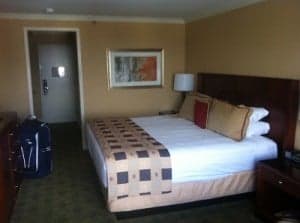 The Hyatt Regency Boston is a nice hotel. I got it on Princeline.com for dirt cheap compared to what the rack rate was. Nancy Schretter, from the Family Travel Network turned me on to two websites that show you what to bid on Priceline or what rooms you'll get on Hotwire. BiddingforTravel and BetterBidding are brilliant sites! In my case, I got the room for $90, the rack rate was $269. I used it one other time to get the Sheraton in DC for $49 per night, it was going for $189. The hotel is pretty nice. Lots of space and located in the Theater District (see photo).
To get to the Black Falcon Cruise Terminal from this hotel you have to cab it or walk. It's only a mile the way the crow flies but a 25-minute walk if you're gonna try it, not me! I was told it's a five-minute ride in a taxi.
From what they're telling me, I'll probably leave the hotel around 10 tomorrow morning to get to the pier at a decent time and to check my bags. Next time we talk I'll be aboard Carnival Glory.
For now, it's time to explore Beantown and find a lobster roll or a great seafood place!
Be sure you're following our upcoming cruise on Twitter, Facebook, YouTube, Pinterest, Cruise Radio Live app, and our SeaBlog.
Subscribe to our Cruise News Updates.